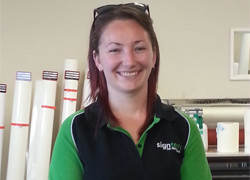 17 August 2016
Signmaking apprentice Louisa Jessop had to Google 'signmaking' when she found a job on Seek that caught her interest. Over a year later, the 26-year-old is doing a signmaking apprenticeship at signage company Signtech the sign masters based in Christchurch.
"I saw a job on Seek that Signtech were advertising. It was an industry I was completely unfamiliar with. I wanted to see what the position entailed before applying for the job. I thought I'd give it a go since it's a creative industry and I enjoy being creative," Louisa says.
"I started at Signtech in September 2014, and after three months they offered me an apprenticeship. I jumped at the opportunity."
Coming from a fashion and retail background didn't deter the budding signmaker from learning a new craft.
"When I first started I didn't know a lot. The work can be difficult at times. But I really love the work I do. It's a lot of fun," she says.
"What I really enjoy is the traditional type of work – hand painting and gold leafing. I'm fortunate that one of the ladies at work, Anne McDonald, is talented in this. She's taken me under her wing and guided me through this style of work."
Louisa is grateful for the support from the Signtech team.
"When I first started at Signtech everyone came up to me and welcomed me to the team. If I have any questions, there's always someone willing to help."
Signtech Graphic Manager Duncan Nash says Louisa's been a great addition to the team.
"Louisa's been awesome. She's a keen learner and gets stuck into her work. She's fitted in well with the team," Duncan says.
Louisa's advice to people thinking of getting into the signmaking industry?
"If you're a creative person, signmaking is a great industry to work in. A lot of the work is digital, so if you're prepared to work in both mediums then definitely give it a go."
Louisa is a Got a Trade? Got it Made! Future Business Leader.
Got a Trade? Got it Made! is a national campaign to raise awareness of on-the-job training and careers in New Zealand's trades and services. It also celebrates the talents and achievements of young people making headway in their chosen vocation.