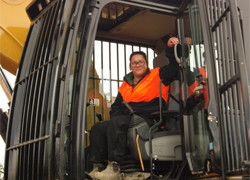 18 January 2016
Twenty-three-year-old forestry trainee Brittney Burrows has found her calling in life.
The Cantabrian has recently finished the National Certificate in Foundation Skills Landing Operations and is now signed onto doing the Advanced Machine Operator, Loader course. Operating diggers and loading trucks for Cable Logging Geraldine Ltd wasn't the career Brittney thought she would be leading, despite coming from a family of forestry workers.
"My dad is one of the owners of Cable Logging. I've grown up around the industry all my life," Brittany says.
"It never really interested me growing up, so I didn't know much about the industry before starting at Cable Logging. I've grown to really enjoy the job. It's awesome, I love it."
Learning to operate diggers in the beginning was challenging, but since starting her job in March 2014, her confidence has gone from strength to strength.
"It was frustrating in the beginning having to learn everything from scratch. As I started to learn the job I would get positive feedback from some of the truck drivers and other forestry workers. It really helped lift my confidence."
Being in a male-dominated industry doesn't faze the mother of one.
"I haven't seen many women in the industry. My experience is that it's a great working environment. I think more women should get involved. Women are more detail-orientated which is great for working in forestry."
Brittney's advice for anyone who wants to get into the industry?
"Go for it. Get out there and try your best. It's a fun industry to work in and you learn so much."