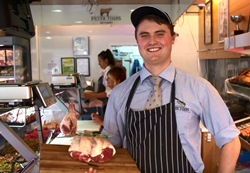 16 August 2016
Nick Buist started in the butchery industry with a part-time job after school. After working in such a captivating environment, and seeing the opportunities that surrounded it, he decided to sign up for an apprenticeship at Peter Timbs Meats.
"I had attended university and tried out for the military, but decided against these options as they didn't suit my desires. Taking on the apprenticeship has led to a lot of opportunities and with my knack for problem solving, I have worked my way up to the position of Business Development Strategies Manager," says Nick.
The 22-year-old is currently completing his qualification in Meat Retail Butchery (Level 4) (Advanced) and is looking to further progress his skills within the business.
"I'm keen to take the next step forward in butchery. I strive for that extra bit, to learn more than the next person. I enjoy taking on new challenges, then mastering and adapting these to simplify the job."
The team at Peter Timbs Meats were so impressed with Nick's dedication to his job they added extra responsibilities to his role. "I'm in charge of our information systems; this means anything to do with information on the scales, website, as well as our computer systems. I'm also in charge of company opportunities including marketing, sales, and the general development of the company."
The forward-thinking butchery apprentice has big plans for himself and the future of the company.
"In terms of career progression, I see big changes for the company I'm working with, and hope to be part of the driving force behind it. I'm very excited to see what the future has in store for me and the butchery industry as a whole."
Nick is certain he chose the correct career path for him, and encourages others to take up careers in trades as well.
"You can't know what you're good at until you've tried, but for anyone truly stumped, I recommend taking on a trade. The work environment is sensational and opportunities are endless.
"It's a great starting point in life as well, because trades are so versatile. You can work in any part of the world. Once you complete your apprenticeship, the entire world is at your feet."
Nick is currently nominated for the Future Business Leaders Awards, which is organised in conjunction with Got a Trade? Got it Made! Week (22-26 August 2016).
Got a Trade? Got it Made! is a national campaign to raise awareness of on-the-job training and careers in New Zealand's trades and services. It also celebrates the talents and achievements of young people making headway in their chosen vocation.