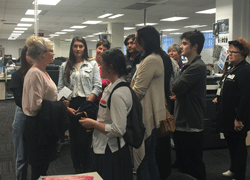 11 September 2015
On 26 August, the New Zealand Herald opened their doors to a group of aspiring journalists as part of the national Got a Trade Week. The tour proved a success with young students wanting a career in the media.
"I found the tour very informative. It was exciting being in the field and getting a feel for the workplace," says Epsom Girls' Grammar School student Vanessa Arapko.
Managing director of APN regional newspapers, Laura Franklin says, "Competenz offers a strong grounding for students wanting to start a career in journalism. Competenz have a lot of involvement with the industry which sets young journalists up for a good start."
"When hiring, I like to see that students have some on-the-job training. I find that that these students are more prepared, particularly in legal writing. University doesn't give students that exposure."
The New Zealand Herald joined 17 other companies which generously hosted a Competenz Discovery Tour as part of Got a Trade Week. Competenz Discovery Tours were an opportunity for school students, job seekers and teachers to visit a local workplace to learn about the career options available in trades and services industries.
Got a Trade Week was also a chance to hear from current trades apprentices who are enjoying the benefits of training on-the job in their chosen trade.
"The trades offer great career opportunities," says Rachel Hopkins, Competenz General Manager Marketing and Communications and Chair of the national Got a Trade Week campaign.
"Apprentices are earning while they learn and they finish their training with a job in their chosen field – not looking for one. They're also gaining practical skills they can use from day one and qualifications that are recognised by employers across New Zealand.
"New Zealand needs more skilled tradespeople. This means good employment prospects and opportunities to build successful careers, which may include owning a business one day and travelling overseas."
For more information please visit the Got a Trade website.