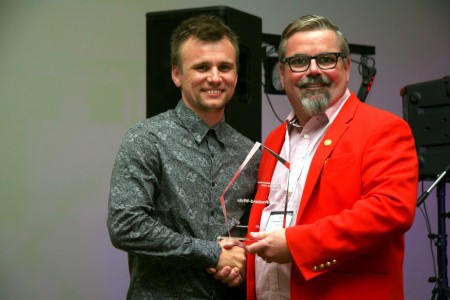 24 May 2017
The Plastics New Zealand 73rd Annual Conference in Nelson was a popular event to celebrate the achievements of companies and apprentices from the plastics industry across New Zealand.
Big winners of the event include Niall Presland-White from Convex Plastics New Zealand who took home the Apprentice of The Year award and Marley New Zealand Ltd for Training Company of the Year.
Niall completed his Apprenticeship in Complex Plastics Processing Technology Technical, Blow film extrusion in August last year at Convex Plastics in Auckland.
 General Manager of Convex Plastics, Aaron Collett praised Niall for demonstrating a commitment to his career. in his approach to his apprenticeship and Manager's role with a very mature and professional manner.
 "Niall's willingness to learn and eagerness to succeed was driven by his overall attitude. As his manager, witnessing his studies was extremely rewarding, in all my years in training and developing apprentices he was certainly of the top calibre.
 He put maximum effort into his work and always made sure that he understood and learned all that he could for each area of study."
 The 27-year-old apprentice from was really surprised but happy with the win.
 "I am really happy to be nominated for the prestigious award but I didn't have my hopes too high as I share the nomination with so many other amazing people from the industry"
 "Being here with all the companies and industry and taking out the award is a very humbling experience for me. I love what I do, and I have learned so much from the people the likes of my manager Aaron and fellow workmates at Convex Plastics.
 "I would really like to thank my account manager, John McGregor. He has looked after me throughout my apprenticeship and I really appreciate his help and guidance throughout this journey. The support that I get from John and my company and their passion for developing young people like me have really made a difference. "
 Former Competenz account manager and plastics industry veteran, John McGregor was presented with a service plaque as an acknowledgement for his long time service for the industry.
 Before joining Competenz, John was an apprentice himself. He went on to own a business for 25 years and employing ATNZ apprentices. He is driven by his lifetime contacts in the industry and promoting apprenticeships to employers and young talents.
 Another great contender of the award has proven itself as a force to be reckoned with is Marley New Zealand who won the well-deserved Training Company of the Year.
This is not the first time for Marley New Zealand to be recognised for its excellent training culture. For a long time, Marley has acknowledged the need for a highly skilled workforce to meet their ever increasing demands to stay competitive.
"When it comes to training, Marley NZ always show consistency with a proven track record of constantly having people in training always striving to develop their internal talent." Said Jim MacBride-Stewart.
Competenz is a proud supporter and sponsor of the gala dinner and the plastics industry. The strong relationship is built by working closely with the industry; to grow and develop training opportunities for apprentices and also to ensure that the industry is well-supported.