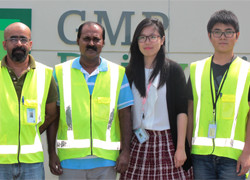 30 May 2016
Learning a foreign language is challenging. At Competenz, we recognise that having staff that are confident in communicating clearly with internal and external customers is crucial to any successful business. 
GMP Dairy also recognises this. As New Zealand's largest pharmaceutical-grade dairy and infant formula manufacturer, the Auckland-based company is on a training journey to lift the English language skills of its 200 employees.
Many of the GMP team come from countries where English is not their first language. This ethnic and cultural diversity is a growing feature of New Zealand and Auckland in particular.
"We wanted to improve quality and increase productivity. So improving our team's ability to communicate effectively with each other was a vital first step," says Ravinesh Kumaran, GMP Deputy General Manager.
Competenz, with support from GMP Dairy and Education Unlimited, have created a handy guide to help businesses upskill their own staff in English language training.
Click here for the GMP Dairy case study.