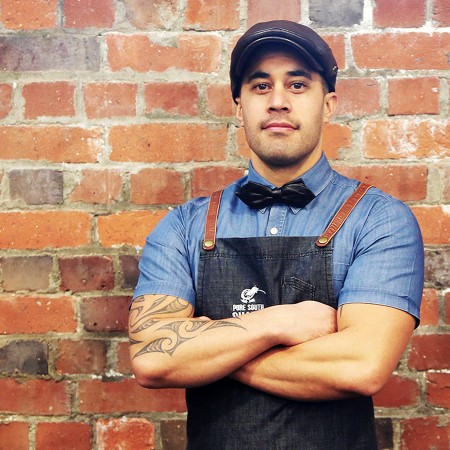 07 March 2018
When Hohepa Smith first started out in butchery, he wanted to be the guy on the marae who prepared the meat and provided for his family.
He was working at Countdown Meat and Livestock in Auckland after taking a break from university, and he was rapidly improving his knife skills.  
"Being able to provide for my family really appealed to me. I was working at the meatworks for quite a few years before I started my apprenticeship with Competenz, and that's where it all began."
This month Hohepa will showcase his knife skills on the world stage as a member of New Zealand's national butchery team, the Pure South Sharp Blacks, who are preparing to compete at the World Butchers' Challenge in Belfast, Ireland.  
"You can't go past representing your country at an international event," Hohepa says. "You're representing your family, your friends, your bosses and where you've come from. It's all about passion and pride."
The world challenge involves each team breaking down a side of beef, pork, a whole lamb and five chickens into a themed display within three hours and 15 minutes.
Hohepa, 34, is one of six team members who each play an important role, breaking down the meat, separating the cuts, adding value with marinades and garnishes, and preparing it for display.
"There's lots of room for innovation and creative flare. But our last training was a full dress rehearsal and we nailed it, so I think we've got the goods to win."
The competition started off as a trans-Tasman tournament in 2011, and has now grown to include 12 teams from Australia, Bulgaria, Brazil, France, Germany, Greece, Great Britain, Ireland, Italy, South Africa, USA and New Zealand .
"The French won it in 2016 so they will be hard to beat," Hohepa says. "I'm looking forward to seeing the different styles of butchery and what other countries bring to the table."
Competitions have been an important part of Hohepa's career – he was named Competenz Butcher Apprentice of the Year in 2015 and World Champion Butcher Apprentice in 2016.
It was through the world competition that he was offered a job in Australia, and he now works at Northern Corporate Meat Company in Burleigh Heads, boning beef, lamb and pork for wholesale. He's settled into the Gold Coast lifestyle and makes sure it's not all about work – there's also time for surfing, enjoying the outdoors and riding his motorbike.
Hohepa has been flying back to New Zealand for training sessions with the Pure South Sharp Blacks before they head to Ireland. They will have a chance to visit local farms, butcher shops and other sites before the competition at the Titanic Exhibition centre in Belfast on 21 March.  
"It's going to be huge. The hardest part will be getting over the nerves, but I've done it before, I just need to let loose."
And his advice for young butchers starting out in the trade?
"Make sure you work hard and follow instructions from your bosses, take in everything that you want to learn. Just keep at it and be passionate about what you do. You've got to start from the bottom and work your way up."