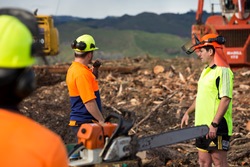 03 August 2016
Competenz has been working with industry over the past 12 months to ensure the products we offer are fit for purpose. As a result of this work, Competenz has created new learning resources for the forestry industry, which were launched in June. These new learning and assessment guides are now more relevant to the industry, more visual for the learners, and include plenty of prompters to help them with what they need to know.
Since being introduced, the resources have been well received by the learners, assessors and employers who will be using them. They can be used at the learner's own pace, and have been designed after intense research into what learners need.
National Manager – Forestry Mark Preece and his team visited sites across the country over 14 months to take photos and videos for resources to ensure the real essence of forestry work was captured in the new material. 
"Over five hundred resources have been developed with a strong digital focus. Learners can watch videos and listen to podcasts on their smart phones as part of their learning. The assessment materials are more robust, and easier to understand. There are also interactive PDFs with a 'text to speech' function for those with low literacy skills," says Mark.
Characters have also been introduced throughout the learning and assessment guides to help learners with key messages and promote conversation within crews.
These new resources align with updated unit standards and a new set of New Zealand Certificate qualifications that have also been launched in June.
For more information, please contact your Competenz account manager.