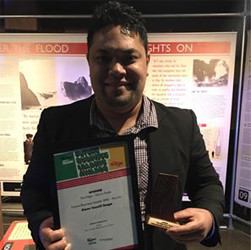 29 August 2016
Print Apprentice of the Year Sione Tonga, can now add another accolade to his impressive accomplishments. The print graduate won the Pacific Leader award at The Edge Got a Trade? Got it Made! Future Business Leader's Awards at MOTAT, Auckland this month.
"I didn't expect to win, but I was really happy and honoured to be chosen. It means a lot to my family. I'm now one step closer to achieving a management level role," says Sione.
The awards event, which celebrates the achievements of New Zealand's 'bright young things' in the trades and services, were held as part of a forum bringing together New Zealand's future business leaders for Got a Trade Week, the national campaign to raise awareness of the careers that exist in 140 trades and services in New Zealand.
Sione completed his print apprenticeship at the end of last year and is now a senior printer at Stratex NZ.
"My goal for the future is to one day become a manager running a department. It is every Pacific teenager's dream to become a boss in a company. Especially for someone like myself. Starting with nothing to become something," he says.
The judges agreed that Sione has "an amazing work ethic, has overcome adversity and focused on making positive family changes through his personal and professional development."
The team at Stratex are extremely proud of Sione being recognised for all his hard work.
"I congratulated him on the night after his win and announced it to the office the next morning. Sione is a hard worker and deserves everything he has achieved. It's great to see him get recognition for all the work he does," says Stratex NZ Print Manager Ross Halliday.
Recipients of four awards were announced at the event, with south Auckland mental health worker Christina Taefu taking out the top award, Overall Future Leader. She also won the Female Future Leader category. Other categories were Māori Leader and a General Leader award.
All four winners received JB Hi Fi vouchers, a Sonos Play 3 system, and a year's subscription to MYOB. The Overall Future Leader winner also received funding to attend an eight-day Outward Bound business leadership programme.
Before the awards ceremony, the nominated Future Business Leaders attended the Future Business Leader's Forum as part of Got a Trade Week. The Forum provided the nominees with the tools to further their careers through leadership activities and sessions with inspirational guest speakers.