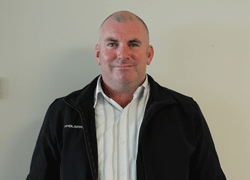 05 August 2015
Brett Jobe has lived and breathed the forestry industry since he was 16 years old. By the time he was 19 he was a crew manager. By 22 he had completed a forestry diploma. For 12 years he worked for PF Olsen Limited in forestry management before becoming a Competenz account manager (based in Kerikeri) just over a year ago.
What's a typical day on the job?
I try and catch up with a couple of contractors first thing in the morning, and then I come back to the office and do paperwork. I would go out to contractors to talk about their training plans and try and sort out any problems they may have. I ring around contractors to see how they are getting on and where I can help them out.
How has the industry changed?
There's a lot fewer corporates. There are a lot more management companies out there and a lot of Māori land coming on. Particularly in Northland, there's going to be a big change in the next 5 to 10 years with there being a lot less corporate land being harvested and a lot of Māori land coming onto the scene. It's going to be interesting to see how that develops.
What do you wish people knew about forestry?
It's not as dangerous as people think it is, provided regulations are followed. There is a good career pathway, I'm proof of this. I left school when I was 16 and I worked my way up through the crews and then into the management side of things and did a bit of training. You just have to be prepared to work hard. That person is quite hard to come by now days.
What surprises you the most about forestry?
It's the resilience of some of the guys out there. A lot of the crews are going through tough times at the moment, but they're still so focused on their jobs.
What is the outlook of health and safety in the forestry industry, particularly with the new health and safety laws soon coming into play?
The improvement that forestry has made in the last few years since our bad year in 2013 has been great. Some of those improvements are increased awareness around drugs and how it's not okay anymore to be under the influence.
There's a lot more visibility out there of WorkSafe. And the industry is working together and sharing their learnings about incidents that occur on their jobs, so the industry as a whole can learn from it.
Northland will be running its first Forestry Industry Awards in 2016 where, as an industry, we can celebrate those out there who are achieving within their own fields throughout the forestry industry. As far as the new health and safety laws go, forestry is in a very good position because of the gains that have been made in the past few years.
There are more companies putting emphasis on contractors to let them know if they are having problems. I see crews out there now looking at the whole picture and they're doing really well. Crews are more productive now that they have a focus on everything, including health and safety.
What would most people be surprised to know about you?
I love my polocrosse (horse sport) and I love my rugby. I coach North Zone U14 rugby team.