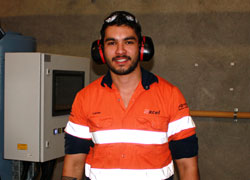 27 May 2016
For Refrigeration and Air-Conditioning (RAC) apprentice Lucas Rankin, moving from Samoa to New Zealand five years ago has set him on the career path he's always wanted.
"My family are really proud of what I've achieved so far. They want me to complete my apprenticeship as soon as I can, so I can go back home to Samoa and start a business," Lucas says.
But completing his apprenticeship with Excel Refrigeration and Air Con Ltd is his main priority.
"It's great being a part of the Excel team. They're really good guys to work with. There's always someone to help me if I need it. My aim is to continue to work for Excel once I finish my apprenticeship."
Before starting his apprenticeship in December last year, Lucas did a pre-trade course at Manukau Institute of Technology (MIT) through the Auckland Māori and Pasifika Trades Training scheme.
"Before I did my pre-trade course, I was doing a degree in marine engineering. I decided the lifestyle of a marine engineer just wasn't for me. I enjoy working in engineering which led me to doing the pre-trade course at MIT."
After his first three months at Excel, Lucas was offered an apprenticeship.
"Every week I work with a different technician on whatever job they're doing. It's great seeing how other people work. I learn a lot from them," he says.
"At the moment I'm working on contracts for Fonterra at their dairy factory in Takanini and their storage facility in Paerata. I love the work. It's similar to my marine engineering work, but the lifestyle is so much better."
Lucas enjoys the variety offered every day at Excel.
"The work is so diverse. It goes from plumbing, to welding, to electrical work – there's always something different to do."
The team at Excel have been supportive of Lucas throughout his training.
"Lucas fits in really well with the team. He's an extremely keen worker and has come a long way in his training. He will make a great technician once he's qualified," says Excel Auckland Manager Jason Roud.
Lucas wants to continue to build his career in the RAC industry.
"The roles in the industry are changing as technology changes. Some of the new machinery you can Bluetooth your phone to connect to it. It's a cool industry to work in because it's continually evolving."
His advice to young people thinking of doing an apprenticeship?
"If you like practical work, then this is the trade to be in. A lot of Pacific islanders think this industry is not for them and they wouldn't feel comfortable in this environment, but I want people to know that it's an awesome industry to work in. If you have an interest in engineering, then definitely go for it."