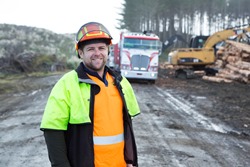 09 August 2016
For Nick Tombleson, winning Forestry Family of the Year at the 2016 Northland Wood Council Forestry Awards was a huge credit to his family and his crews.
The father-of-two started the family business, Tombleson Logging Ltd, with his parents (Leigh and Jenny Tombleson) 14 years ago. Now they have 16 employees across 3 crews: 2 ground-based crews plus a mechanised thinning operation.
"Leigh and I were both working for other companies, but we really wanted to start our own crew. When the opportunity came along, we took advantage of the situation, and now we're here.
"Leigh is a great man, and I have massive respect for him. I can't imagine going into business with anyone else. He has over four decades of logging experience, and even though he's the company's director, he's not afraid to get his hands dirty."
Nick is also a veteran in the forestry industry, with over 17 years of logging experience. He is also the only manual faller in the company, and the contractor representative for the Northern Safety Committee.
"Health and safety is the most important thing when you're out in the forest. We run regular mock drills with our staff to make sure they are prepared in any scenario and we have solid communications devices on all our workers and machinery."
Nick believes there are five things which makes Tombleson Logging stand out from other companies: culture, staff, safety, training, and quality. And this is evident in the way his employees view the company they work for.
"I love working at Tombleson Logging. Working for such a family-oriented company makes you feel looked after. You end up being part of an extended family here, and their attitude towards our safety in the workplace is second-to-none", says Willy Glasson, a foreman, who has been with the company for 13 years.
"I love coming to work and seeing my mates, and I feel proud to work for such a great company."
The Tombleson's are both active industry mentors, offering services such as career advice, budgeting advice, and informing younger members of the industry of their personal development options. They believe with the right information and attitude, forestry workers can work better and smarter.
"One of the best things about working in this industry is the room for personal growth. There are so many options for young people to further their skills and knowledge, they just have to be willing to go for it", says Nick.
The success of this mentality is evident in their own company, when one of their employees, Jeremy Gunner, won Trainee of the Year (also at the Northland Wood Council Forestry Awards) last month.
"Going forward, we want our company to continue growing, while still retaining our culture, its lean mentality and its innovative mind-set, moving with forestry into its next phase", says Nick.