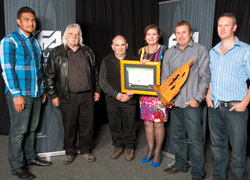 18 May 2015
More than 480 people turned out for the sixth annual Eastland Wood Council Forestry Awards, held at the Farmers Air Showgrounds Event Centre in Gisborne on May 15. "This event is for the guys on the ground," says Trevor Helson, chief executive of the Eastland Wood Council. "It's a great motivator and an opportunity for them to get the public recognition they deserve."
"There are some very good people out there in the forest and we want to show them and others that we value them. There is tremendous opportunity for people who work in this industry."
Forestry is vital to the Tairawhiti region, contributing more than $350 million a year, which will increase as volumes rise. Around 1600 people are directly employed in forestry. And, one in four households has someone who is dependent on the industry for work.
"We will go from 2.5 to 3.4 million tonnes over the next couple of years. And, the vast majority of money that comes into the region through forestry is spent locally," says Helson.
The big winner of the night was Scott Torrie, from Dewes Contractors, who took home the award for Skilled Forestry Professional of the Year.
"The quality of this professional's knowledge of the industry, his leadership and problem-solving abilities enable him to get the best out of those he works with," says MP Anne Tolley, who was on hand to present the award.
"A proven safety track record and quality of product produced indicates that he directs his team to gain positive outcomes. He is committed to training and professionalism within the industry and has a good rapport with his employees and their clients."
On the judging panel for the awards, Mark Preece, National Manager of Forestry at Competenz, was impressed by the high calibre of nominations this year.
Competenz is proud to be a long-standing supporter of the Eastern Wood Council Forestry Awards. And, naming rights sponsor of the Training Excellence category.
Training Excellence
Modern Apprentice of the Year | Tom Wehi at Hikurangi Forest Farms Ltd

Trainee of the Year | Allan Tipu at East Coast Lumber Ltd

Training Company/Contractor of the Year | Blackstump Logging Ltd
Skilled Professionals
Skilled Forestry Professional of the Year | Scott Torrie at Dewes Contractors Ltd
Forestry Excellence Award | Semisi Akani at Forestman Contractors
Roading Excellence Award | Larry Shoemark at Cranswick Enterprises Ltd
Harvesting Excellence Award | Scott Torrie at Dewes Contractors Ltd
Distribution Excellence Award | Rex Neild at Pacific Haulage Ltd
Wood Processing Excellence Award | John Wilson at Juken NZ Ltd
Industry Excellence
Forestry Family of the Year | KFT Logging Ltd
Contractor of the Year | Blackstump Logging Ltd
Outstanding Health and Safety Management Award | Rimurapa Ltd
Outstanding Environmental Management Award | EWC Environmental Focus Group
Outstanding Regional Service Performance Award | McInnes Driver Training Ltd
Start UP Business Award | Daniel Herries at Lumberjack Crosscutting Ltd