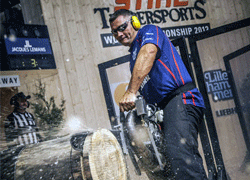 19 May 2015
More than 20 nominations have been received across five categories for the Southern Wood Council Forestry Awards, to be held in Dunedin on 19 June 2015. With the first stage of moderation complete, the judging panel, including Mark Preece, National Manager of Forestry at Competenz, will finalise the category winners shortly.
Mark says it was great to receive nominations from such a wide range of individuals and companies. And, he saw some very professional and passionate recommendations.
The awards dinner will feature keynote speaker, Jason Wynayard, 2014 Stihl Timbersports Series World Champion, who has claimed more than 220 world titles individual wood chopping and sawing in a career spanning 25 years.
Certificates will also be presented to learners who have recently completed forestry qualifications.