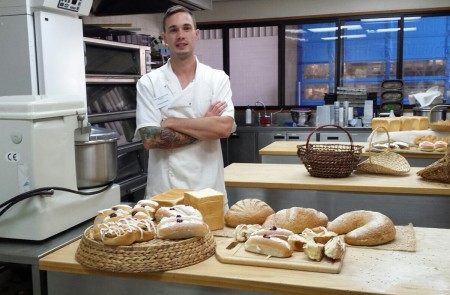 24 February 2015
Judging for the top young bread baker in New Zealand took place in Auckland yesterday with Nathan Roberts from Goodman Fielder in Auckland being declared winner of the 2015 'Young Bread Baker of the Year' competition.
In winning this award, Nathan demonstrated to the Judges ability in three key areas: practical baking, theoretical knowledge of baking technology, and presentation of research into consumer perceptions of having E-number labelled additives in bread.

As winner of this year's award, Nathan will have the opportunity to broaden his industry knowledge and experience through a $10,000 research grant.
At the award presentation it was also announced that last year's winner, Bree Scott from Lyttleton Bakery, has been selected to represent New Zealand at Australia's LA Judge Competition to be held in Sydney in May.
The 'Young Bread Baker of the Year' award is sponsored by the NZ Association of Bakers and is designed to promote excellence in people emerging from their training.