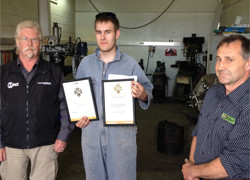 21 December 2015
A serious head injury earlier this year has not stopped young Motueka man Kyle Heibner from completing his apprenticeship in mechanical engineering.
In February Kyle, who is 22, suffered a serious injury at Wanganui Speedway while racing for his team the Wanganui Warriors Superstock Team. An induced coma and several months of surgery and rehabilitation followed. Thanks to support from his employer (Talley's Group Limited) and family and our local Competenz account manager Gordon Laird – and a huge amount of his own determination! – Kyle has now completed his apprenticeship. He received his certificate at a graduation on Friday (and there were happy tears and lumps in throats all round).
"This is a fantastic example of a learner overcoming the odds to complete an apprenticeship," says Competenz account manager Gordon Laird. "Kyle's shown great attitude and determination, and he'll make a very good engineer. It's also a good example of an employer getting behind an apprentice. Well done to the team at Talley's too."
Kyle is currently working part-time, and will increase his hours after Christmas. Talley's are supporting him back to full employment.
More information
Nelson Mail article 19 December
Photo: Competenz account manager Gordon Laird, Kyle Heibert and Karl Griffiths from Talley's