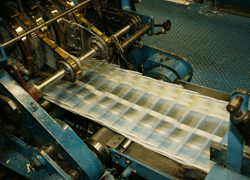 14 September 2015
Looking to take your print and packaging training to the next level? Applications are now open for the Competenz Scholarship towards the National Diploma in Print Industry Management (Level 5) to start in 2016.
The diploma is a nationally recognised qualification that is flexible, takes account of the demands of employees' day jobs and is a step up from an apprenticeship.
The scholarship is worth up to $2,300 + GST and will be awarded to one person, covering the cost of the diploma which involves two years of part-time training on-the-job.
This is an ideal opportunity to upskill if you are working in the print or packaging industries and are looking to support your developing career into management level.
Competenz Print, Packaging, Sign & Journalism National Manager Mike Stevens says the diploma is a great opportunity for print and packaging apprentices to move up in their careers.
"Past diploma graduates tell us they want to further their knowledge and understanding of the industry – as well as gain a higher qualification. They want to use what they've learnt to help their company grow and become more profitable," Mike says.
"Managers have said that they see the diploma as not only providing a reward for high performing individuals, but also to ensure that those individuals become even stronger contributors to the company."
Our industries need more management-qualified people to take our businesses into the future. If you want to build on your skills and knowledge in print and packaging, this is a qualification that will set you apart.
Applications close on 12 October 2015.
To apply for this scholarship please fill out the application form.
Please click here for the terms and conditions. 
For more information, please contact the Competenz team: marketing@competenz.org.nz