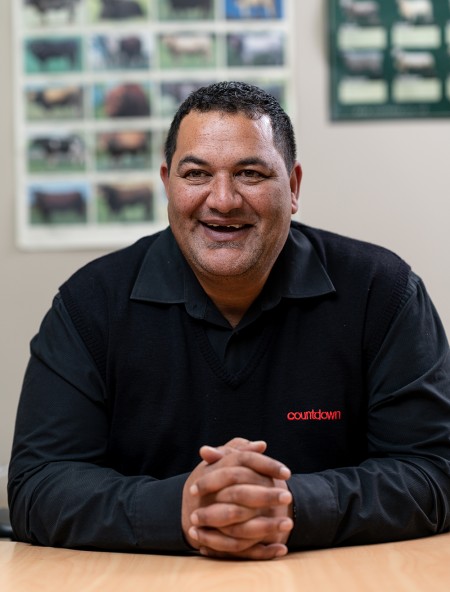 29 October 2018
Starting out as a butchery apprentice in 1984, Riki Kerekere has risen up through the ranks to become Senior Operations Manager for Countdown Meat and Livestock in Otahuhu, responsible for the planning and delivery of meat to the supermarket's 134 North Island stores.
Riki is also giving back to the industry he trained in, in his role as manager of Countdown's butchery apprentice programme at the meat plant, which has been running for the past 14 years.
To attract apprentices, Countdown holds an annual recruitment drive, promoting the opportunity internally to current employees, friends and family, and externally to those outside the Countdown family.
"We train 12 apprentices every year," says Riki. "Twelve's a good number – you can still spend time with them and mentor them. They take up to three years to complete their qualifications – the quicker they do it, the quicker they earn good money. We give them the time and space during the working week to study – it's a great programme that works."
Riki says he loves seeing his apprentices move on and up in the world. One of his apprentices, Corey White, recently won '2018 Butcher Apprentice of the Year' at the prestigious Retail Meat New Zealand competition. In the same competition Riki took out the '2018 Butcher of the Year' award.
"Many of our apprentices have won international competitions for their butchery skills, moved overseas to great jobs or have progressed to management jobs in head office. You look after people, respect them and give them the tools they require to succeed and they will."
Competenz training advisor Blake Angove works closely with Riki, supporting him "100 percent".
"He provides everything we need to get our people through their study in good time and armed with the skills they need."
Three of the 12 Competenz apprentices currently at Countdown are women, with an increasing number joining the previously male-dominated industry. "They are the future of the meat business and bring a flair to their meat presentation I've never seen before in the industry," says Riki. "As an old school butcher, I really enjoy seeing our industry evolve to include a diverse mix of butchers.
"Our female butchers are a highly valuable part of the team. One of our apprentices started as a packer at Countdown, successfully applied for the programme and now after only six months into it, she was runner up in the national apprentice competition. She absolutely loves it.
"We want our people to succeed. Any good business wants this. If the people succeed, then the business succeeds."