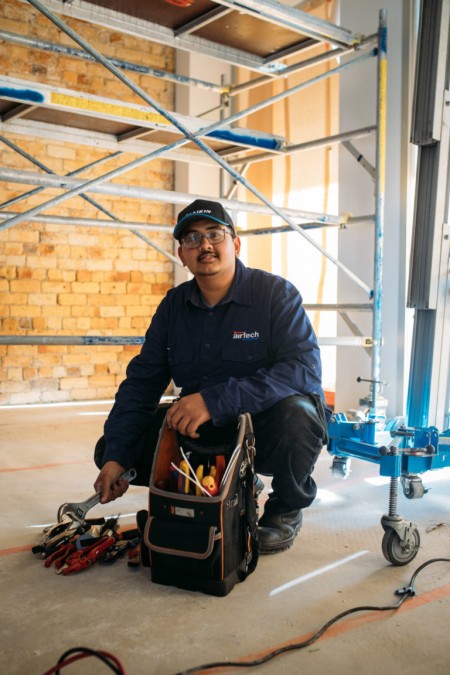 06 August 2020
No-one achieves major goals on their own – our success also depends on support from those around us. That's why refrigeration and air conditioning apprentice Avishkar Kissun is happy to be using his skills to help his hard-working parents pay the bills, and plans to celebrate getting established in his trade by taking his family on holiday.

For Avishkar Kissun, learning a trade is about giving back to his family.

The 21-year-old was born in Batinikama, Labasa, on the island of Vanua Levu, Fiji. But his parents, who are both teachers, wanted him and his sister to have more opportunities. So in 2016, they made the difficult choice to leave Fiji and come to New Zealand.
"My parents wanted a great future for me and my sister. They needed a better future for us, so they decided to move to a new country."
Once in New Zealand, Avishkar chose to learn a trade because it allows him to help support his family while he trains, and opens up the possibility of owning his own business one day.
"My parents have struggled a lot in coming to New Zealand and it wasn't an easy way to come here. So I have to care for my family."
Avishkar learning on the job in Ponsonby, not far from Airtech's headquarters on Williamson Ave.

House warming
Avishkar now lives in Papatoetoe with his parents, his sister and his granny.
"It was a big change for us, because we still have our house and close families in Fiji. It was really a very hard decision to leave behind our house and people with whom we've spent our time," he says.
"My dad has struggled a lot. Coming from Fiji and getting a job was hard in New Zealand. When we came, my mum was the main applicant and she came on a student visa. She completed her Bachelors of Digital Technologies at MIT as an international student. My dad worked as a cleaning supervisor at the airport. After about two years, he managed to get his teacher registration and started teaching, through which we got residence."
Avishkar's parents are both now working as teachers, and his sister is studying biomedical science at Auckland University.
Together, the family managed to save enough to buy their own house in Auckland.
"We have just bought our own house last year, due to our hard work and savings. I am lucky to be working because I am helping my parents pay the mortgage."
Avishkar wants to use his trade to give back to his parents.
"This house is not my parents' dream house. I have a plan in my mind: I'm thinking of buying them a house that they like – a dream house for them."
"I'm also thinking of taking my family on a big vacation once I'm established in my trade and my life is sorted out."
Conditioned for success
Avishkar knew he wanted to study refrigeration and air conditioning after he lent a helping hand to his neighbour, who was a refrigeration engineer.
"A few days I went with him to help him, and I really enjoyed it and wanted to learn more. I didn't have any knowledge of it — I was just a helping hand, you know. I wanted to learn more, so I just went to MIT and found the pre-trades course in air con and refrigeration."
In 2018, after finishing high school, Avishkar did a Certificate in Refrigeration and Air Conditioning (Level 3) at Manukau Institute of Technology, with help from an MPTT scholarship. He excelled in his studies and was given the MIT MPTT Top Trainee Award for General Engineering.
"MPTT paid for my fees, plus they gave me support to buy tools, which was very good and very helpful for me. Those are the tools I'm using now. And Hami and Naomi from MPTT supported me with preparing my CV and getting me ready for a career."
Tools aren't cheap, and Avishkar's grateful for the help from MPTT with putting his kit together.

In January 2020, Avishkar started his apprenticeship (through Competenz) at Airtech, which sees him working all over Auckland.
"The thing I enjoy most is going to new places in Auckland, and getting to work on new types of air con."
"My job mostly focuses on the air conditioning. There are selected senior staff who do the refrigeration and I work with them. I have just started, but I am doing my best to learn refrigeration from them."

Avishkar with his supervisor Pritesh (top left); removing redundant air conditioning equipment from a refurbishment in Ponsonby; and with his boss John Yorston, who says Avi's maturity helped land him the apprenticeship.

Air of confidence
Avishkar's boss John Yorston, General Manager at Airtech, says the company is constantly "bombarded" with CVs from people looking for work, but Avishkar shone through because of his maturity.
"There's a formality about him in terms of how he works and in his manner. He's presentable and tidy. He has a maturity that's a major benefit for him in what he's doing and where he's going, and that rolls into his acceptance by the team.
"Give him a few years and he'll be able to liaise with clients and pretty much do everything we could want — that's for sure."
One challenge for Avishkar has been getting comfortable with heights.
"It was very challenging for me when I started, you know. Going up high, climbing ladders and everything, is not easy when you're not used to it. But slowly I am learning and seeing where people put their hands, what's the correct position. Now it's all normal for me and I'm confident in everything, but this was one of the challenging parts."
In the future, Avishkar has his sights set on owning his own business, and he hopes to be able to employ some of his relatives who also live in Auckland.
This story first appeared on the Māori and Pasifika Trades Training website.