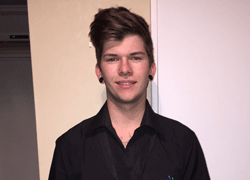 07 August 2015
Stacy Smyth is not one to rest on his laurels. The 20-year-old from Dannevirke is currently in his fourth year as a heavy fabrication apprentice at RCR Energy Limited (RCR). He's busy preparing for the WorldSkills competition (an international competition where young tradespeople compete to become the best at their chosen skill) as part of the Tool Blacks (the New Zealand WorldSkills team), competing in the welding category.
"My boss Craig Monaghan, he did the competition back in 2007", Stacy says. "He pushed a few of us to go along to the regionals. I did well in that, so I went on to doing the nationals and won that competition. We had a pre-international competition where there were about eight countries who took part in the competition. I finished second behind China."
Becoming an apprentice seemed like a logical step for Stacy who grew up on a farm and enjoyed hands-on work and the process of building a finished product.
"I always wanted a solid foundation for a job, so I wanted to get an apprenticeship behind me," he says. "Once I finish my apprenticeship, I know I will always have something to fall back on."
Stacy heard about the apprenticeship at RCR Energy Limited through a friend's father.
"I was three days away from starting my seventh form year, so applied for the apprenticeship and I got it."
The four-year apprenticeship has opened doors to career opportunities he previously didn't know existed.
"I was planning on going back to school and figuring out what I wanted to do. But now that I've got this apprenticeship, I've definitely got a career path to go down. It's opened huge opportunities for me."
The team at RCR have been behind Stacy every step of the way through his apprenticeship and also the WorldSkills competition.
"RCR have been awesome. They are a great company to work for. They've helped me out heaps for the WorldSkills competition. They've been there pushing me along, helping me out, and making sure I'm not slacking at anything."
RCR Workshop Foreman Craig Monaghan says Stacy has come a long way since he started almost four years ago.
"His skills have really improved since he first started," Craig says. "He's a pretty confident guy and works well with the rest of the team. Young guys pick up skills easily so taking him on as an apprentice when he was so young wasn't an issue. Everything he's achieved he's done all himself."
Stacey is hoping to finish his apprentice before his twenty-first birthday in January next year, and is looking forward to the future.
"I'm going to stay with RCR after my apprenticeship to gain more experience," Stacy says. "There's the possibility to go overseas and work offshore and then later down the track to start my own business."
A strong advocate for apprenticeships, Stacy says more young people should consider becoming an apprentice.
"I just brought my first home. Lots of young people just muck around. You either want it or you don't want it," he says.
"New Zealand is lacking keen young tradesmen. If you put a lot of hard work into it, you can get a lot out of an apprenticeship."
The WorldSkills competition is in Sao Paulo, Brazil and runs from 12 to15 August.
For more information, please visit the WorldSkills website.