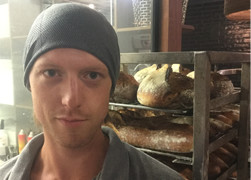 07 April 2016
For 24-year-old Luke Frew, working in the baking industry is opening doors to a promising future. The British-born baker is doing a bakery apprenticeship with artisan bakery, The Store in Britomart, Auckland. His passion for baking started in a small bakery in Pukekohe three years ago.
"I was looking for work in my local newspaper when I saw a job going at Albert's Kitchen. I had previously gone to university to study engineering, but after a couple of years, I found it wasn't for me," Luke says.
"I started at Albert's as an assistant baker in 2013. I found that I really enjoyed the work and wanted to become a qualified baker. I wanted a qualification that assisted with what I was learning, so taking on an apprenticeship made sense."
A baking apprentice for a year-and-a-half, Luke says learning on the job has its advantages.
"For me it was appealing to learn on the job. I don't have to go to university or polytechnic to get my qualification."
Moving from Albert's Kitchen to The Store was a natural progression for Luke, who started at the Britomart bakery at the beginning of April.
"It felt like the right time to experience working in a new bakery. I really value the skills I learnt at Albert's. The Store is a bigger company, where I'm able to continue to strengthen my baking skills. It's a chance to learn different techniques," he says.
"At the moment what I'm learning is quite bread focused. I'm making a lot of baguettes which is great because it's something I haven't done before."
For Luke, it's crucial learning all aspects of the industry, not only on the job, but in block courses and through his book work.
"The first year of my apprenticeship was health and safety focused, which is very important. This year is more about the product and identifying faults. I've found this really useful at work," he says.
"I've recently done a block course on making donuts, which was fun to do. It's something different."
Luke is thankful for the support he receives from Albert's Kitchen and the team at The Store.
"I've just started at The Store. Everyone's been very welcoming and helpful," he says.
"Albert [Psaros – Albert's Kitchen owner] was a good mentor. He comes from a self-taught background, so he had a hands-on approach to learning. We had a great working relationship. I know if I'm unsure about anything, he'll always be willing to help."
Albert says Luke was an asset to his business, and always willing to learn.
"Luke's always aware of what's going on around him, and wanting to continuously learn. He's attentive to his work, whether it's the finishing of a product, or health and safety. He pays attention to the little things," Albert says.
"He wants to be a better baker, which in turn means a better product. He brought what he learnt from his course into the workplace, which is great not only for his own development, but for the business as well."
Luke thinks local artisan bakeries will become more popular in the near future.
"I think people are becoming more focused on the quality of their food. People appreciate having a local baker that they can go to, and knowing who makes their food and grows it," Luke says.
"There's definitely a market for small-scale bakeries. It becomes a sensory experience for the customer rather than just going to the supermarket."
After finishing his apprenticeship, Luke hopes to travel and work for bakeries overseas.
"I'd like to gain more experience by working in other bakeries overseas to see how they do things. Eventually I would like to start my own bakery in New Zealand. I definitely see a future in this industry."
Luke's advice to fledging bakers?
"Just go for it. If you have an interest in becoming a baker, talk to your local bakery. Ask if you could do some work experience so you can get an understanding of what it's like to work in this industry."