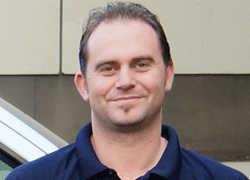 26 June 2015
Projects and Contracts Manager at White Refrigeration in Auckland, Steve Ellis, age 33, took on an ATNZ apprenticeship straight from school. In retrospect, he was surprised by the level of knowledge and applied expertise required of an engineer in this field. "You can actually get a PhD in refrigeration," he says.
One of New Zealand's unseen industries, refrigeration and air conditioning in all its complexity, lies hidden in ceilings and behind walls.
"It covers a vast range of skills, everything from refrigeration and electrical, to building and plumbing. I'm renovating my house at the moment and I can pretty much do it all myself," says Steve.
Having attended Liston College in West Auckland, Steve followed in the footsteps of his brother, who pointed him in the direction of an apprenticeship with a local refrigeration firm.
However, his training was cut short when the company lost a huge contract. The client went under midway through the project and Steve's employer had to let him go.
In 1999, he joined White Refrigeration, which specialises in commercial air conditioning and ventilation systems, as well as refrigeration. And, it was here that he completed his four-year apprenticeship with ATNZ.
Steve also collected a few accolades along the way. In 2002, he won the Auckland section of the Wallie Askew competition. And, within 12 months, he was named MIT Apprentice of the Year.
In 2007, he branched out on his own, contracting at a higher hourly rate. "The main attraction was financial gain," admits Steve, who did well out of the arrangement. He worked on several significant projects, including the refurbishment of Auckland's Eden Park in preparation for the 2011 Rugby World Cup.
In 2011, following a stint in Australia, Steve returned to White Refrigeration full-time as a senior refrigeration and air conditioning engineer. A year later, he took on the role of Project and Contracts Manager.
"It involves more managerial tasks, workload organisation and solutions to system breakdowns. It's also more of a stepping stone to senior management roles," says Steve, who's not averse to further training.
In 2006, he completed a Level 5 Diploma in Refrigeration and Air Conditioning. And, a Bachelor in Engineering is currently under consideration.
Steve confesses that he wasn't sure what to expect from his apprenticeship, which has seen him progress from engineer to business owner and senior manager over the past decade.
"There are so many things I could do with my qualifications. And, I could do them anywhere in the world," he says.
Steve's advice for fledgling apprentices? "Finish your apprenticeship and you'll always have something to fall back on. Four years in a lifetime isn't much to have a guaranteed future."