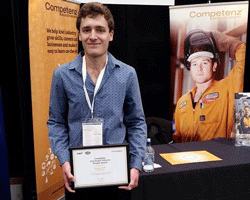 19 November 2015
Mechanical engineering apprentice Benjamin Peffer likes a challenge. His confidence and work ethic has led him to being runner-up for the Competenz Stuart Tolhurst Apprentice Trophy at this year's 2015 SKF National Maintenance Engineering Conference (NMEC) in Hamilton.
The award, which celebrates the achievements of an apprentice who has shown good work ethic and initiative, was a complete surprise for the 20-year-old.
"It was completely unexpected. I'm pretty stoked," he says.
"I've learnt a lot through my apprenticeship. There's always something different to do every day."
A mechanical engineering apprentice at Heinz Wattie's in Hastings, Benjamin applied for the apprenticeship in his final year at Karamu High School.
"I found out about the job through the school careers noticeboard. I originally wanted to do joinery, but changed to engineering because I found it more interesting."
Benjamin is happiest when he's learning from his mentors.
"I like to stay on people's good side because there is more than one way to learn to do a job. To gain experience, I need everybody's input," Benjamin says.
"I'm always eager to learn. I like problem-solving and having to think on my feet."
Heinz Wattie's Maintenance Coordinator Phil Chandler says Benjamin is conscientious with a good attitude towards his work.
"Ben can always be relied on. He's not shy of giving anything a go. He's one of the best apprentices I've come across in the seven years I've worked at Heinz Wattie's. He's ahead of a lot of his counterparts at his age," Phil says.
"It's because of Ben's attitude to his work that the organisation would consider taking him on as an employee after he finishes his apprenticeship."
Benjamin is aiming to complete his apprenticeship by March next year. He hopes to continue working for Heinz Wattie's once he finishes.
His advice to budding engineering apprentices?
"Just go for it. I didn't know a lot about engineering before I started my apprenticeship, but if you're willing to learn it's an interesting industry to get into."