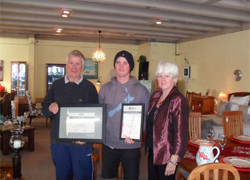 20 December 2016
Over 40 years ago when Vince Molloy opened his furniture making business Molloy Furniture, the Auckland-based business owner has had over 20 apprentices enter his doors and leave as qualified furniture makers.
"I brought on apprentices early on in the piece when the business first started. It was a way of giving back to the industry. There was never a time when I didn't have at least one apprentice," Vince says.
"When it comes to on-the-job training, it has its trials and tribulations, but it's a must. I definitely support businesses taking on apprentices. It's important that we keep pushing the craft."
A former apprentice, Vince believes it's important to continue to train on-the-job.
"We need to keep passing the knowledge onto the future of the industry. I was lucky I worked with some talented craftsmen who took the time to teach me. Hopefully we've done the same for our apprentices. I want them to be proud of the work they produce," he says.
"It's a bit of a sacrifice. It's easier to take on someone who's already trained and qualified, but I get great satisfaction in teaching my craft. A lot of the guys who've come through my workshop have taken off around the world. A few have gone to London to work in the trade."
The furniture making industry has been through many changes since Vince started back in the 1960s as a cabinetmaking apprentice.
"In the beginning I worked for a couple of companies before going out on my own. I taught myself to be a wood turner. Wood turning was popular at the time with people wanting balustrades for their homes. We were making hundreds of billiard table legs, as well as plates and bowls for events."
In the 1980s the business started moving into making cabinets. By the 1990s, they were assembling bedroom furniture.
"The industry has changed a lot over the years. I got a couple of good breaks with jobs and the business took off from there."
Competenz contract assessor Colin White, who assessed many of Vince's apprentices over the years, says Vince understands how to train people.
"He knows how to look after the apprentices, and he's always available when they have questions. All the apprentices I've assessed have spoken highly of Vince," Colin says.
"Part of the apprentices' success was that Vince set high standards which certainly helped when they made projects for the top apprentice award."
At the end of this year, Molloy Furniture will close for the Christmas break and for the last time.
"We close for good at Christmas time. All the boys have got jobs at another furniture maker which I'm glad," Vince says.
"It was a decision I had to make. I've always been on-the-job, so it's time to move onto new adventures. My wife and I are looking forward to doing things we haven't been able to do because we've been working."
Furniture and Cabinetmaking Association of New Zealand Executive Secretary Alister Murray says Vince's dedication to the industry is second to none.
"There was one time I went to visit Vince and he gathered all his apprentices together in their showroom and asked them all to ask me any questions in regards to their training programme. It really shows his dedication to training. He gets all his apprentices involved in the company," Alister says.
"It's quite sad to see him go. He's a great guy with a great company. I wish him and Shirley [Vince's wife] all the best for the future."
Photo (left to right): Vince, former apprentice James Davis, and Shirley.