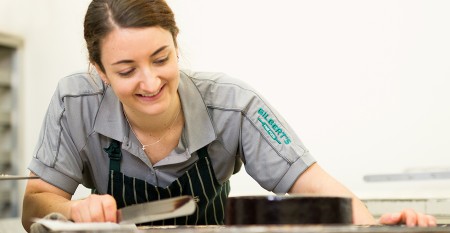 14 August 2017
A career in baking allowed Hilary Faul to combine all the things she really enjoyed.  
"It was practical, satisfying, fun, delicious, and just the right amount of challenge. The workplace environment also appealed to me – noisy, messy, social and laid-back. The more I thought about baking, the more it made sense."
Hilary trained as a commercial skipper through Maritime New Zealand before she chose to change direction and start her bakery apprenticeship training aged 23. She encourages others to think seriously about career options at high school. 
"My advice would be to take more subjects that you enjoy, not just academic ones. It's much easier to perform brilliantly and excel in a subject you enjoy."
Hilary was one of four finalists in the NZAB 2016 Young Bread Baker of the Year Competition.
She is an apprentice baker at Gilberts Fine Food in Dunedin, working towards a National Certificate of Craft Baking.
She started out assisting the other bakers with weighing and mixing doughs, moulding bread, and folding and cutting pastries. She learnt by watching and helping, and now performs duties unsupervised.
"Lately I have been given more technical responsibilities such as decorating cakes and creating new pie flavours. Every second week it is my duty to come up with a muffin and scone flavour for the week."
Timing is important in the bakery, and Hilary needs to ensure bread goes into the oven at the right  time, that doughs are mixed for a suitable duration and products come out of the oven before they burn.
"It is a very strong team environment, we have to be very efficient with our time and resources. We are constantly talking together about who will be doing the next job and what that job will be so we can make best use of bench space and oven space.
"When you pull a loaf out of the oven that looks picture perfect it is immensely satisfying. And finally, when customers come back to you raving about how delicious your products are, that really makes my day."
Hilary said learning on-the-job provided a great balance of study, practical learning and courses, all while earning a stable income.
"Looking to the future I am excited about all the different options available to a qualified baker. I could work in cafés, hotels, cruise ships or open up my own bakery. Or I could specialise in pastry, cakes, sourdough, or plant baking. So many options!"
Watch Got a Trade? Got it Made! with Hilary Faul
Hilary is a future leader for the Got a Trade? Got it Made! national campaign to raise awareness of on-the-job training and careers in New Zealand's trades and services. Find out more at gotatrade.competenz.org.nz.