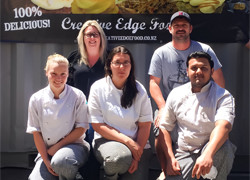 07 November 2016
For Creative Edge Food owner Shane Tinker, training the industry's up-and-coming bakers is a way for him to give back to the baking industry and future-proof his business.
"Someone took time to train me and it's a way of giving back to the baking industry. I was lucky to get an apprenticeship when I was 20-years-old at Coupland's in Invercargill learning how to bake from scratch," Shane says.
"I've worked in various baking roles since my apprenticeship: pastry, production development, and purchasing stock. I enjoy the challenge of the role and get great satisfaction in making bread and it turning out perfectly."
Shane co-owns the Auckland-based wholesale bakery business with his partner Jennifer Elliot. They brought the business off the original owner over three years ago. Jennifer looks after human resources, sales and accounts, while Shane looks over maintenance, production, and purchasing.
"Without Jennifer, I would be stuffed," Shane jokes.
"Jennifer is a year into her apprenticeship, learning more about the production and technical development side of the business."
Training apprentices is an important part of the business. Other than Jennifer, Shane has three apprentices and is looking to take on another one in the New Year.
"It has future-proofed our business. For around six to nine months we had struggled to find the right skilled staff, so decided to teach our own. We're getting a stronger workforce by training our own apprentices," he says.
"We want to place an importance on being qualified. We've offered these employees apprenticeships because their work ethic has shone through."
It's all about the output, as well as quality in a wholesale business.
"I've had bakers come in and fail because they're not used to making things from scratch. There's a difference between baking from premixed ingredients, to actually learning to bake properly," he says.
"I teach my apprentices organisation, planning and cleanliness skills. They follow all the steps in the recipes no matter how long it takes."
Twenty-two-year-old baking apprentice Nowella Stokes is currently halfway through her apprenticeship at Creative Edge Food.
"I've wanted to be a baker since I was 11-years-old. Doing an apprenticeship will hopefully mean I can move into a higher-up role in my career and own my own bakery one day. You get to earn and learn," Nowella says.
Shane believes more needs to be done to develop a skilled workforce in the baking industry.
"Skilled bakers are few and far between. It's important that we support local bakers. The only way forward is through training. More employers need to give back to the industry by training an apprentice," Shane says.
"I get satisfaction out of teaching. If you're constantly challenged, you'll always be interested in your job. I like seeing my employees feel like they're achieving something. It's all about giving back."
Photo: Creative Edge Food owners Shane Tinker and Jennifer Elliot (back row) and their team.