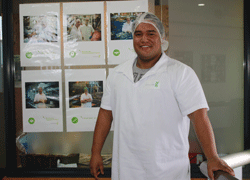 09 July 2015
No-one knows better than 29-year-old Richard Mehana that it's a hard road getting to the top, but this hasn't deterred the South Aucklander from reaching his goals. For Richard, being a bakery apprentice and team leader for plants one and two at Goodman Fielder's Quality Bakers Auckland site, has led to many achievements in the baking industry, but none of it has been easy.
"I look after two production lines; one produces Natures Fresh, Molenberg and other breads and the other line produces Vogel's, MacKenzie and Freya's breads," Richard says. "It's challenging running two plants, but at the same time it's exciting."
Money was tight growing up in South Auckland and providing for his grandmother took precedence over school.
"I had to leave school because my grandmother couldn't afford to support my education," Richard says. "I came into Quality Bakers as a temp, doing cleaning jobs. I wanted to go back to school, but my grandmother couldn't afford it. I had to support her and myself so I came into Quality Bakers to work fulltime."
In 2006, Richard took the opportunity to be a part of the apprenticeship programme (Level 4 Plant Baking qualification) at Quality Bakers. Over three years he learnt the ropes of the business from hands-on baking to presentation skills. He tested those skills in bakery competitions, always coming runner-up, but in 2009 this all changed when he was named New Zealand Young Baker of the Year.
"It takes the best bakery apprentices around New Zealand and puts them into a competition," Richard says. "I studied hard for that one because I wanted to win it. That competition went well. I won!" Part of the prize for winning this was to represent New Zealand in the Australian LA Judge competition (Australasian baking competition).
Winning Young Baker of the Year also earned Richard a $10,000 research grant, which he used to complete his project on plant baking automation. Upon finishing the project, he was offered a job as plant one supervisor at Quality Bakers.
"I finished my apprenticeship in 2011 and moved into the supervisor role. A year and half after that, we were doing really well, me and my family." Richard is married to Lisa and they have three children, Courtney (9), Ashlee (5) and Braxton (3).
Richard is a role model for the current apprentices and a strong advocate of helping his wider team reach their full potential.
The team at Quality Bakers are proud of Richard's accomplishments and want other apprentices to follow the same career path.
"We support the apprentices as much as we can, but make sure they've got room to develop and grow," says Joe Jarkiewicz, Process & Technology Manager at Goodman Fielder.
Richard's family are proud of his achievements and his ability to go above and beyond to provide for them.
"I still look after my grandmother, she's proud."
Continuing his education within the business, Richard is now a registered assessor with the New Zealand Qualifications Authority (NZQA) and has completed qualifications like the National Certificate in Business (First Line Management) (Level 4).
In the next few years, Richard hopes to manage a plant and eventually manage sites. He currently works with a number of community groups in South Auckland, encouraging young people to pursue the same opportunities he was given.
What's his advice for those thinking of doing a bakery apprenticeship? "It's going to be a hard road, but by the time you have finished, you will have achieved something amazing and hopefully something that you're proud of."