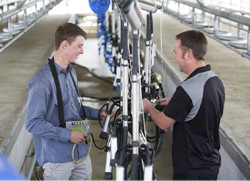 30 May 2016
Dairy farmers across the country will benefit from a new apprenticeship designed to build the skills of the engineers who design, install and maintain their milking, pumping and effluent systems.
The New Zealand Apprenticeship in Dairy Systems (Engineering), a partnership between industry training organisation Competenz and the New Zealand Milking & Pumping Trade Association (NZMPTA), will help businesses in this important support industry lift employees' skills, offer long-term career paths, and deliver the service farmers need to keep their equipment working 365 days a year.
"The NZMPTA has been championing an apprenticeship programme for the dairy industry for many years and we're thrilled that, with the expertise of Competenz, it's now in place," says NZMPTA President and Country Manager of Grundfos Pumps, Simon Fletcher.
"This nationally recognised qualification addresses the shortfall of skilled tradespeople in the milk harvesting, pumping and water application sectors of the industry. While it's largely engineering-based, the apprenticeship delivers a range of skills, knowledge and workmanship. It will help the industry attract new people and offer them career paths, lift the level of skill in the industry and set consistent standards. Employers, employees and the farming clients we work with will all benefit."
NZMPTA member Steve Bromley from Bromley Dairy & Pumps in Feilding is looking forward to signing four members of his team into the apprenticeship when it is available, and recruiting a new apprentice too. He urges other members to do the same.
Competenz Industry Manager Peter Ferguson says strong industry representation from the NZMPTA has helped the Competenz team understand the technical skills dairy technicians need to work productively and safely, and agree the qualification's structure and content.
"Dairying is one of New Zealand's most important industries. So we're really pleased to be able to help build the skills needed, right through the supply chain, to be internationally competitive."
Peter says apprenticeships are a structured, proven way to build skills.
"Most learning takes place on the job. So apprentices are gaining practical skills that are directly relevant to the job they're doing. It's a great way to learn."
For more information please visit the Dairy Systems page on the Competenz website.
Click here for the New Zealand Apprenticeship in Dairy Systems (Engineering).