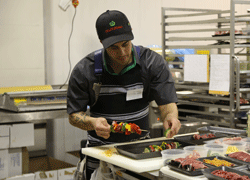 07 July 2015
Congratulations to Hohepa Smith from Countdown Meat and Livestock, who won the Upper North Island Butcher Apprentice of the Year competition on 4 July. The best butchery apprentices from the Upper North Island battled it out to win the regional award and have the chance to compete in the national competition at Shed 10 in Auckland on 10 September.
Maori Television continued their coverage on the competition, following six Maori butchery apprentices over the last month. Hohepa was one of the apprentices profiled. The apprentices were tested on their practical skills, as well as their knowledge on the industry.
Our butchery apprenticeship is a combination of on-job and distance learning with an off-job block course once a year. The apprenticeship takes three to four years to complete. We had nearly 100 butchery apprentices complete their apprenticeship last year and currently have 400 in training this year.
Click here for Maori Television's coverage on the competition: