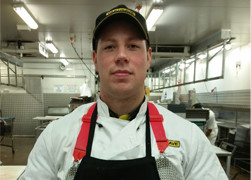 26 January 2016
Winning the Competenz Butcher Apprentice of the Year competition in 2014 was only the beginning for Pak'n Save Lincoln Road butcher Luka Young. The Aucklander has set his sights on being the best in the business.
"After I won apprentice of the year I set myself some goals. My main goal is to own a butcher shop or a supermarket. My short-term goal is to win the Alto Young Butcher of the Year competition," Luka says.
"Last year I competed in the competition. I won the Auckland regional final, and came second at the national final. I've got a fire within me to finish off what I started and win."
Luka spent three weeks on a study tour last year in Australia gaining work experience from some of Australia's top butchers.
"They shared lots of information with me from butchery tips, to business and management skills. I'm used to working in a supermarket; I've never worked in a private butcher shop before so it was really interesting. The things I've learned on tour I've put in place into my work."
Luka is currently looking into further training options, as well as gaining management experience by mentoring apprentices.
"I'm looking into doing an assessor course so I can sign off apprentices' work. I'm currently mentoring a few of the apprentices, and I want to make it official. I'm also looking into doing a few management courses."
Being a butcher is not just about cutting meat.
"This industry opens so many doors. You can teach people, be a butchery manager, a boner, or open your own butcher shop," he says.
"There are so many different career opportunities, but you've got to have the drive and passion to work in this industry."