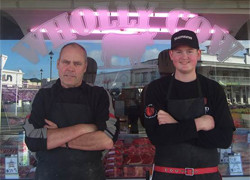 16 December 2016
For 16-year-old Luke Andrews, wanting to be a butcher started when he was young. Around four years ago his parents brought Export Meats in Cambridge – now known as Wholly Cow – which cemented his passion for the job.
"I've always been interested in butchery. This year I've been doing the Butchery Gateway programme [at Cambridge High School] where I've been allowed to work four days a week at the butchery shop and then one day at school. I enjoy it more being able to work," Luke says.
Luke decided to finish school this year so he could start a butchery apprenticeship in the New Year.
"School just wasn't for me. I wanted to leave and start working. I'm excited about starting my apprenticeship at the beginning of next year," he says.
"The Gateway programme is really great. The Careers department at school have helped me heaps. Blake [Angove – Competenz butchery account manager] came on board a couple of months ago to help me get into an apprenticeship."
Although Luke had difficulties around the bookwork due to dyslexia, it did little to hold him back from completing the programme.
"The bookwork is not my strong point, but my school really supported me. I had a read-write [a literacy support software programme] which was really helpful and made it a whole lot easier."
A year and a half ago, Luke's family expanded their business from their Cambridge premises, to a store in Hamilton. As well as running both stores, the family also sell their produce at local markets in Rotorua and Tauranga on the weekends. Luke is enjoying taking part in the family business.
"I enjoy boning the beef. There's a fair bit to learn, but I've got great teachers at the shop. I wouldn't mind one day taking over the business from dad."
Wholly Cow Cambridge Store Manager Pat Pierce says Luke is a pleasure to teach.
"He wants to learn and he's really interested in all aspects of the job which make teaching him easy," Pat says.
"It's not just learning the butchery skills, there's a whole raft of other things that Luke is learning in terms of running the shop. The good thing is he relates to customers. He's great at communicating with people which helps."
Gateway Coordinator at Cambridge High School Liz Wilson says he's an exceptional young man.
"His friendly outgoing personality would make him a popular person in any workplace. He's especially good when dealing with customers," Liz says.
"I was so pleased when he nailed the Gateway units on offer through Competenz as his butchery knowledge was very evident."
More information
If you would like more information on the Butchery Gateway programme, please contact our School and Careers team.

Photo: Pat Pierce and Luke Andrews outside the Wholly Cow Cambridge store.