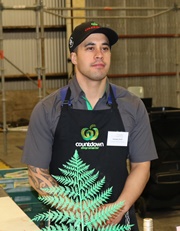 08 August 2016
Hohepa Smith has been with Countdown Meat and Livestock in Auckland for over eight years and has recently completed his National Certificate in Meat Retail Butchery (Advanced) (Level 4).
Prior to commencing his butchery apprenticeship, Hohepa had been working at Countdown Meat and Livestock for over five years. 
"I decided to undertake my butchery apprenticeship because I wanted to learn more about the industry and have a better understanding of how to produce and cook meat," says Hohepa. 
The talented apprentice embraced the opportunity to take up a leadership role very early on in his training.
"At the time of beginning my apprenticeship there were four other apprentices who started the same programme as me, only they were new to the company. 
"From the beginning I was put into a leadership role to help train the new apprentices. I had already acquired a good set of knife skills and general use of butchery equipment so it was easy enough for me to help develop their skills." 
During his three-year apprenticeship, Hohepa learnt many new skills, including the practices of a hand knife butcher.
"I was given the opportunity to learn different techniques of deboning animal species and making products from each animal which was then provided to over 160 stores around New Zealand. I had to debone, cut, slice, marinade and use a bandsaw to achieve this."
In 2015, Hohepa won the prestigious title of Apprentice Butcher of the Year, a nationally recognised butchery competition involving butcher apprentices from Progressive, Foodstuffs and other privately owned butcher shops. He is grateful for the new skills and confidence he gained after being awarded this honour.
"I was always the quiet guy at work, very shy and introverted. However, after winning the Apprentice Butcher of the Year competition I had to do public speeches and media interviews, something I was never comfortable with or had the confidence to do. 
"I persevered and it became apparent to me that this was also part of my own development and I slowly grew in confidence. I began to look at work in a different light and realised that the time put into my training as an apprentice was time used to help improve my butchery skills and personal development."
While preparing for the competition, Hohepa actually helped the other apprentices prepare for the same competition.
"I guided them through the practical cutting routine, as the competition requires a two-hour practical cutting test. There was also a 45-minute theory exam as part of the competition so we would all study together."
Hohepa credits his butchery skills and his leadership skills to the operations manager at Countdown Meat and Livestock, Riki Kerekere.
"His training during my apprenticeship has contributed to shaping my career and I am very thankful for his guidance. I hope to one day step into his shoes and do what he does."
Hohepa is a Got a Trade? Got it Made! Future Business Leader.
Got a Trade? Got it Made! is a national campaign to raise awareness of on-the-job training and careers in New Zealand's trades and services. It also celebrates the talents and achievements of young people making headway in their chosen vocation.