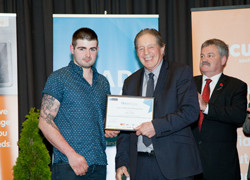 26 November 2015
Early this month, more than 350 people attended the annual TradeQual evening at the Ascot Park Hotel, Invercargill to celebrate the achievements of over 80 learners who've graduated from trades industries. This year, around 18 apprentices from the engineering industry were honoured.
The event, which has been running for 10 years, is an opportunity to acknowledge those apprentices achieving in the Southland area.
"Apprentices receive recognition certificates of their achievements from the local district mayors, Tim Shadbolt (Invercargill Mayor), Gary Tong (Southland District Council Mayor), and Tracy Hicks (Gore District Mayor)," says Competenz account manager Noel Clayton who attended the evening.
"It's a really great night. Apprentices get to enjoy an evening with their employers, family and friends who have supported them throughout their apprenticeship."
Careers consultancy company Southern Directionz, in partnership with the Southland Chamber of Commerce, host the event which has seen an increase of graduates this year.
"We've had a 30% increase in graduates this year which is fantastic. It's about celebrating the success of apprentices and how this in turn honours the trades industries in the Southland area," says Southern Directionz Managing Director and Competenz assessor Dave McKissock.
"We raised around $20,000 for the night so that the apprentices, their employers and family can have a great night out. The event also celebrates the support of employers, Industry Training Organisations (ITOs), and family members who've played a part in the graduates' training."
Competenz are proud supporters of TradeQual and the team loves celebrating learner success. For more information on TradeQual, please visit the Southland Chamber of Commerce website.
Photo: Mechanical engineering apprentice Sean Goffin receiving his certificate from Invercargill Mayor Tim Shadbolt. Credit: Megan Graham Photography and Southern Directionz.