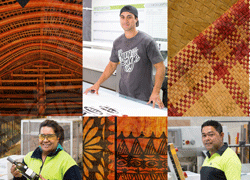 21 May 2015
Tālofa!
Competenz helps build skills, careers and businesses
E feasoasoani Competenz e atina'e le poto ma le tomai, matātā ma galuega, ma pisinisi.
This week we're celebrating New Zealand's third most spoken language. For many of us at Competenz and around New Zealand, this is a chance to learn more about the Samoan language and culture.
Acknowledging Samoan Language Week (24-30 May 2015) is also important for many of the learners and companies we work with. Valuing and taking an interest in the Samoan language and culture are two ways we can do this.
Over 400 of our Competenz learners identified as Samoan in 2014. We have some outstanding Samoan learners. They include Faanu Suafoa who is making great progress towards his print finishing apprenticeship at PMP Ltd in Auckland.