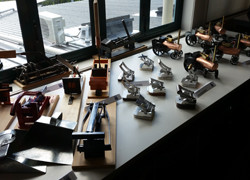 01 December 2015
Last month Rangitoto College celebrated 60 students from Year 11 to Year 13 at their Technology Department Vocational Awards. Now in their third year, the awards were established to recognise students who excel in trades.
Technology Head of Department David Edmonds says it's a great opportunity to celebrate all the hard work students have put into their class projects.
"A lot of school prize givings are academic-based. We wanted to recognise those students who excel in the trades subjects," David says.
"We get a lot of parents and caregivers attending the ceremony. Their support has been great. We also have sponsorship support from Cypress Sawmill, Blackwoods Protector, and Power Tool Shop North Shore."
Four students from every class received top awards for having the best attitude, having the best practical skills, showing leadership skills, and top student. There are also overall top student awards in construction, engineering and hospitality.
"The students who receive the overall top student awards have shown they have not only excelled in their work, but also have a great attitude, have shown independence, and help other students," David says.
Competenz Careers advisor Brian Lane, who attended the awards ceremony, says it was great to see all the students' hard work on display.
"Students' work is of a high standard. David makes sure his staff have the best facilities for basic vocational training. The college is setting good examples for trade-based learning for its students that will lead into numerous areas of employment," Brian says.
The Competenz Careers team are currently visiting schools to talk about the 2016 Competenz careers offerings. These include new Gateway programmes to prepare students for careers in forestry, baking, engineering and butchery.
For more information, please visit the schools page on the Competenz website.