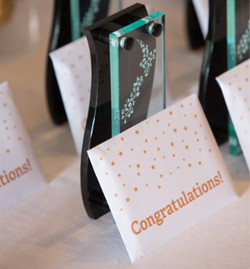 12 February 2016
The Competenz People Awards, recognising employees who've made an outstanding contribution to the business, were presented at the end of last year with the help from Smudge Signs based in Onehunga, Auckland. The team at Smudge designed and made the trophies for the awards ceremony.
"It's important to us that we support our industry. It was great to be involved in a project that was for our Industry Training Organisation," says Dane Moss, Operations Manager at Smudge Signs.
"It's not often we get to do projects like this. The awards are given to staff who earned it, so it was important to make sure that everything was perfect."
Signwriting apprentice Steven Waller took charge of the job with the guidance of Dane and Managing Director Corey Fleet.
"It was a two-day process. We did most of the preparation on one day, and assembled the awards the next day," Dane says.
"We agreed upon a design with Competenz as well as the substrates that were used. Once we made the parts, we sanded and polished them."
Having apprentices involved in projects like this is part of the training programme at Smudge.
"It's important for us to involve our apprentices in all aspects of the signmaking process. This includes design, working with machinery, finish and application. We try to keep everything in-house so they get an understanding of the entire process. In our opinion that makes better signwriters."
The awards were an opportunity for Competenz to support the signwriting industry.
"Supporting a company that delivers high quality training to their apprentices made it an easy choice for us to work with Smudge," says Mike Stevens, Competenz National Manager - Print, Packaging, Signmaking & Journalism.
"The team at Competenz would like to thank Smudge for all their work on the awards," Mike says.