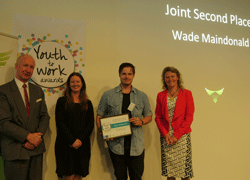 09 November 2015
Competenz congratulates engineering firm Croucher and Crowder Engineering Co Limited (Employers Award) and Wade Maindonald from Excel Refrigeration (joint second place for Young Achiever Award) who placed at the top of their categories at this year's South Taranaki Youth to Work Awards.
"The awards celebrate young people and the employers, trainers and educators who support them to achieve," says South Taranaki District Council Community Development Advisor Marcia Haigh.
"This is the third year of the awards and we have been overwhelmed by the quality and range of the category nominees."
Competenz account manager Alan Lockett says it's important we celebrate the achievements of young people doing well in trades, as well as the companies who support them.
"The standout for me was seeing so many learners being supported by their companies," Alan says.
"The look of surprise on the trainees' faces when their names were called out was awesome to see. It's great to see so many Taranaki companies getting behind young people."
Competenz regional manager Steve Brooks and account managers Alan Lockett and Angus Ryburn attended the awards night to support the companies and young people who've made a difference to youth employment in the region.
The awards are a project of the South Taranaki Mayors Taskforce for Jobs and organised by South Taranaki District Council.
More information
For information on the winners and the awards please visit the South Taranaki Council website.