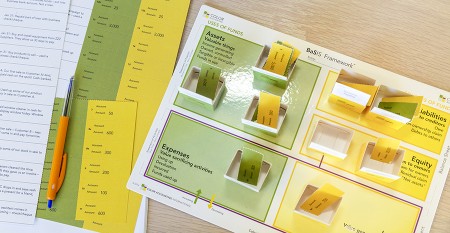 10 October 2017
A one-day workshop recommended by Harvard Business School that makes accounting easy to understand is now being delivered in New Zealand.
Competenz has partnered with ServiceIQ and BDO to deliver Color Accounting workshops, with the next one scheduled in Wellington on Wednesday 8 November 2017.
The workshop uses plain language and simple diagrams to teach people how to read and understand balance sheets and income statements. It is designed to help people at all levels of an organisation upskill quickly and make better business decisions.
The first two workshops, delivered in September, were attended by managers, small business owners, HR professionals and executives.
Participants said: "It's a great introduction for people who have never been exposed to accounting processes before, and for those who have, it's a good refresher.
"There were people from a range of different companies, and we were all relating the learning back to our business. So we heard plenty of examples and case studies."
Professor Paul Healy, from Harvard Business School, said Color Accounting is visual and allows people to see problems and relationships easily.
"I believe that it is of value to anyone who is interested in understanding how accounting works, from high school students to MBAs to business executives."
The workshop covers:
Balance sheets
Income statements
Cash flow
Accrual accounting and depreciation
Value generation and profitability
Business valuation
Performance measurement
Financial communication and pitfalls
Financial analysis
The workshop in Wellington on 8 November is being run by Tamara Crowe from BDO.