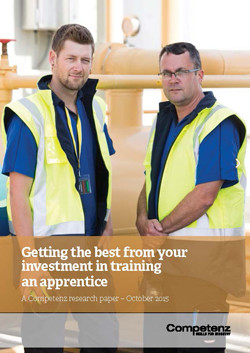 18 December 2015
New Competenz research, which summarises the views of 180 employers, has identified practical ways companies can gain the greatest return on their investment in an apprenticeship: a skilled, productive employee who adds value as soon as possible, and stays with the business.
The study shows that a strong introduction to the business and apprenticeship, a well-structured work programme which offers the apprentice variety and increasing responsibility, and career discussions early in the apprenticeship are all important.
The research also identifies that employers of small companies without a dedicated training team can do as good a job of training and retaining apprentices as larger ones. This is a good news story for a country of small businesses like New Zealand.
Competenz thanks employers from the 180 companies who took part in the research.
More information
Click here to view the report.