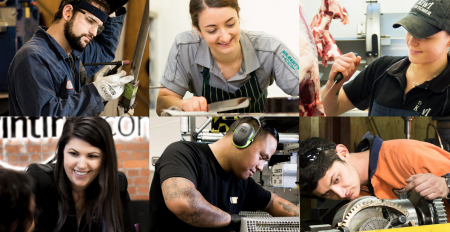 21 August 2017
Six high-performing Competenz learners have been nominated for the Got a Trade! Industry Training Awards, which will be announced in Wellington on Wednesday 23 August.
Mike O'Callaghan, Paul Taurima, Myra Anderson, Frank Uati, Hilary Faul and Kayla Scott have been identified as future leaders in their industries, and will attend the awards dinner at The Banquet Hall at Parliament.
The awards celebrate success within the industry training community and showcase individuals, organisations and schools that are advocates and ambassadors of industry training. In particular, judges recognise great teamwork, good initiative and outstanding communication skills.
Award nominees
Got a Trade! Industry Trainee of the Year
Mike O'Callaghan
Paul Taurima
Myra Anderson
Frank Uati
Hilary Faul
Kayla Scott
Got a Trade! Māori Community Leadership Award
Got a Trade! Pasifika Community Leadership Award