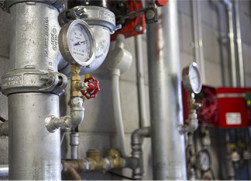 21 June 2016
Competenz are transforming the way the New Zealand fire industry learn with help from the Fire Protection Association Australia (FPA Australia) and Fire Protection Association New Zealand (FPANZ). The partnership will help deliver best practice industry training to the industry through the development of an online learning solution.

The three parties have committed to working together to share learning content, to support consistency of training between the two countries and enable shared savings in resource development costs.
Specifically, the partnership will allow learning resources developed by FPA Australia to be modified for the New Zealand market and then delivered online by Competenz, supported by FPANZ.
Competenz General Manager Product Development and Quality Assurance Nick Thomson said he hoped to make the new learning materials available to the New Zealand fire protection industry in 2017.
"FPA Australia will shortly provide their learning materials to help inform our development of the new online programmes," he said.
Competenz has assembled a team to transition the content from the Australian context. Once these materials have been adapted to meet the New Zealand requirements, we will be making announcements about the availability of these qualifications."
"These materials have been sorely needed in the New Zealand market for some time and we look forward to offering them to learners and ensuring the best possible learning materials are developed for this critically important industry."
FPA Australia CEO Scott Williams said the move would lead to more consistent educational outcomes for learners in New Zealand and Australia.
"Our vision is reducing the risk of fire to life property and the environment, for a safer community and this agreement goes a long way towards achieving this," he said.
"This partnership will ensure that best practice fire protection industry training can be conveniently delivered to learners in New Zealand and this will greatly increase the portability of skills as individuals move between our two countries."
Scott Lawson, FPANZ CEO said the agreement paved the way for closer ties between all the organisations in the future.
"This initiative is just the start of a strong partnership between our organisations to ensure we can continue to deliver for our members and the broader fire protection industry," he said.
'By sharing resources and costs, all learners will benefit and we know we are delivering the best quality industry training available. FPA Australia should be congratulated on the quality of their training materials, which are world class, and we are delighted to be able to access them."