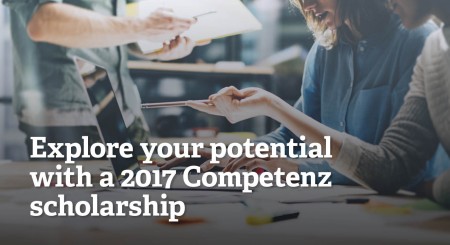 24 February 2017
Competenz is delighted to announce it has secured a $50,000 funding for scholarships towards higher level learning and skill development for learners who have completed a Competenz Level 3 / Level 4 Apprenticeship.
In December 2016, a committee of CZ staff was set up to develop the eligibility criteria and Terms & Conditions around the scholarships. If you have any queries regarding the scholarship please see one of the following members; Steve Brooks, Lara Williams, Sarah Whetter, Greg Stuart, Grant Alsop, Andy Bunny, Iani Nemani and Lizzie O'Halloran
There are 16 scholarships worth $3000 each (per annum).
It is an ideal opportunity to up skill for learners are looking to:
•    support and develop a career in management, supervisor, sales or team leader role;
•    move into management, supervisor, sales or team leader role, or;
•    take the next step up in your career from an apprenticeship.
If you are passionate about learning and have completed a level 3 or level 4 apprenticeship in any of the following industries, and want to advance your career by completing further qualifications, apply now!
•    Mechanical engineering
•    Refrigeration and HVAC
•    Plastics
•    Print
•    Sign making
•    Wood manufacturing
•    Forestry
•    Butchery
•    Baking
•    Furniture
Our industries need more management-qualified people to take our businesses into the future. If you want to build on the skills and knowledge you already have, this is an opportunity you cannot miss to support your learning, which will set you apart.
About the scholarship
The scholarship will cover the cost of any of our Higher Level Qualifications in the above industries or in some of our skill development programmes.  (see T&C's for more details).
Applications are open from 15 February 2017 and will close on 5th April 2017. Successful applicants will be required to complete an interview with a judging panel in May and winners will be notified by email and phone on 31 May 2017.