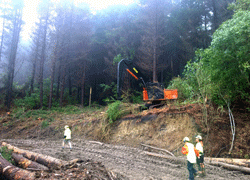 14 May 2015
The Forestry Resources Project, which got underway in March, looks at the development of learner-centric resources to support 11 new qualifications in the pipeline at Competenz.
Led by Nicole Douglas and Sheryl Jensen, project managers in Learning and Innovation at Competenz, the assignment has already taken them to 24 forestry sites, from Kumeu to Christchurch.
Covering the full scope of forestry operations, large and small, the forestry resource development team conducted in-depth consultation with learners, employers, trainers/assessors and account managers, the length and breadth of the country.
Applying a learner-centric design model, the team has carried out onsite visits, interviews, surveys and data analysis to yield considered research. The next step is converting what they've learnt into practical training resources.
"We've been able to create a profile of the typical learner in forestry – identifying what he wants, what he needs and what he does," says Douglas.
Now in the prototype phase, the team will present preliminary resource designs to industry for feedback at the beginning of June.  
"We'll be asking them: 'Based on what we heard and saw – did we get it right?'"
With a lifespan of 18 months, the Forestry Resources Project is still in its infancy. The forestry learner profile – 'Our Tane' – will be unveiled mid-year.