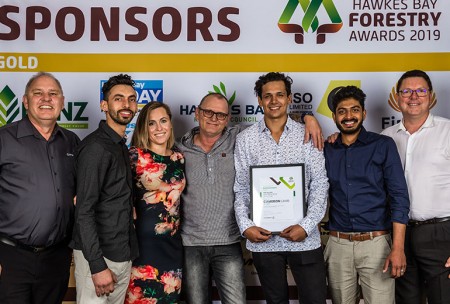 16 December 2019
Competenz learners and contract staff were very well represented in the winners' list of the inaugural Hawke's Bay Forestry Awards, taking home awards for Forestry Assessors of the Year, Apprentice of the Year, Trainee of the Year and the premium award, Skilled Forestry Professional of the Year.
Kere Elliot from Elliot Logging took top honours, while Tumu Timbers' apprentice Cameron Lamb won Apprentice of the Year and Nicholas Hinks who works at Pan Pac Forest Products, named Trainee of the Year.
As well as being a highly regarded Competenz contract forestry assessor, Kere has been involved in Pan Pac harvesting operations for many years and is a well-respected and trusted tree felling and auditing specialist. She has worked her way through all aspects of harvesting operations firstly as a worker and employee, to running a harvesting contracting crew with her husband Grant, as well as providing auditing and training services to the contract workforce.
"The tree felling auditing and training that Kere carries out is a key component of ensuring that all our tree fallers are working at the safest and highest possible level in one of the most hazardous tasks to be completed," said Tim Sandall, General Manager Forests at Pan Pac.
Competenz Training Advisor Todd Billing says he is constantly amazed by the talent and skills evident in the industry. "It's wonderful seeing people of all ages demonstrating that learning never stops and obtaining a qualification. The Forestry Awards have been brilliant in recognising that, and highlighting the talent within the forestry and wood manufacturing industry. We are proud of our nominees and winners – it's a great achievement."
Apprentice of the Year winner Cameron Lamb is in the second year of his New Zealand Apprenticeship in Timber Machining at Tumu Timbers in Hastings. Manager Gemma Dickie says it was a "privilege" to support Cameron's application.
"To have him recognised by the industry has topped off what has been an exceptional year for Cam, who also placed top of his Block Course through Toi Ohomai in August. Cameron is an exceptional young man with a very bright future. The team here at Tumu Timbers was absolutely thrilled to hear the news he had won the award!
"We were also proud to be named runner up in the Training Company of the Year category, an award you must be nominated for by an ITO. Tumu invests heavily in staff learning and development both at a functional and skills level, and in broader life skills and health and wellbeing programmes so it was great to be recognised for our efforts," she says.
Other Competenz learners who took out awards are forestry assessors Kevin Humphreys (Forestry Excellence), Hemi Poutu (Outstanding Regional Service Performance) and Trevor Sialemisa (Outstanding Contribution).
Hawke's Bay Forestry Group CEO Keith Dolman says the decision to implement the Forestry Awards came on the back of other regional campaigns being a positive success for the region and their people.
"Hawke's Bay is an area of growth in this sector and it's important we celebrate our own successes."
Click here for the or the full list of winners at the 2019 Hawke's Bay Forestry Awards. 
Pictured: Apprentice of the Year winner Cameron Lamb with colleagues from Timu Timbers and Competenz Training Advisor Todd Billing (far left). Photo credit: Hawke's Bay Forestry Awards.