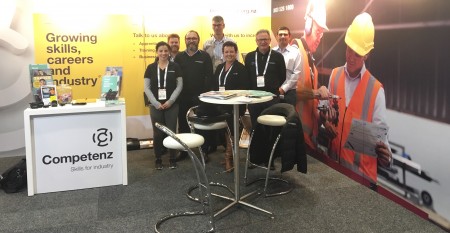 15 June 2017
There was an excellent representation of Competenz at this year's SouthMach held in Christchurch on 24-25 May. SouthMach 2017, the largest engineering and manufacturing expo in the Southland, was opened by Deputy Mayor of Christchurch City Council, Andrew Turner. The event welcomed approximately 1,800 visitors over the two days. We had a stand at the event which was in a prime location, allowing Competenz to engage with all visitors
There were two workshops during the event. At the 'Competenz Engineering Workshop' employers and students came together amongst the exciting and innovative technology being showcased. The were two parts of the workshop. The first part included separate seminars for employers and students. Employers heard from Competenz industry engagement manager, Bill Sole and Bryn Thompson of Metalcraft on the importance of apprenticeships and being a good mentor.
Simultaneously, engineering students heard from our workforce development partner Lyndall Clarke on the different pathways into engineering, Dieter Adam (NZMEA) on the career opportunities available in the Canterbury region.Competenz ambassador and former apprentice Mike O'Callaghan also spoke about his experience as an apprentice to eager students.
The second part of the workshop was a SpeedMeet event for employers and students. Companies who took part in the SpeedMeet session includes ATNZ, Hamilton Jet, Metalcraft Engineering and Active Refrigeration. Attendance was limited to students, and there was a good uptake on the day with a total of 40 conversations happening between students and employers about potential career opportunities during the SpeedMeet session. As a result of this, there were 20 matches and students and employers have been having further conversations over the last couple of weeks.
David from Active Refrigeration gave some great feedback, saying "SpeedMeet allows the chance to compare a range of interest/personalities/attitudes close together, which can't be easily done under normal circumstances. All-in-all, an excellent opportunity to meet young budding candidates, and I would support any future SpeedMeet events."