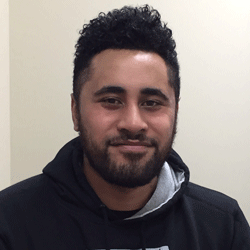 01 May 2015
Congratulations to Print Apprentice of the Year, Cheyne Lesa, and this year's finalists. They were chosen from more than 40 people who completed their apprenticeships in 2014, through industry training partner Competenz.
They are representative of the highly skilled workforce that enables the printing industry to produce award winning, world class work. Each of these finalists has shown an outstanding commitment to learning and applying those skills to their work on a daily basis.
Cheyne Lesa
Binding & Finishing – Printlink – a division of Blue Star Group (Wellington)
After starting out as a casual worker, Cheyne became passionate about his role at Printlink. He approached his manager about an apprenticeship as he knew his work ethic and skills were more than ready for the challenge.
"I love the challenge of being faced with different tasks everyday. I never want to stop learning and in this job, there's always new things to learn whether it's from other operators or skills you pick up along the way."
Cheyne is keen to learn more about the management side of the business and give back to those starting out in their training. Outside of work Cheyne enjoys spending time with his family, keeping fit and is a "huge basketball fan".
Operations manager Katharine Williams says Cheyne's training performance has been outstanding, his attitude and work ethic is second to none.
"The level of respect in which Cheyne is held by both his peers and the management team is enviable and rare for one so young, especially whilst still in training and recently qualified."
Brent Martens
Digital Processes for Print - Gallagher Group Ltd (Hamilton)
Studying graphics in his last year of high school, Brent was tasked with completing a design for a real life client – a local print company. This piqued his interest in the print industry and a year on, he started as a delivery driver and packaging assistant at a print shop. He was then offered an apprenticeship at Gallagher Group.
"The three things I enjoy most about the printing industry are the people, variety and scope of work. It fills me with great pride to produce printed materials for customers such as The Chiefs, Waikato Rugby Union, Hospice Waikato and also the Gallagher Group – a place I always remember driving past as a kid admiring the building, not knowing what the Gallagher Group produced or provided to the community."
Brent is now focussed on improving his leadership skills and undertaking further training in competitive manufacturing.
His employer says: "Since Brent joined Gallagher we have found his attitude and enthusiasm towards training to be very positive. He has put a lot of effort into his apprenticeship. We are very happy to have his trade knowledge within our team."
Wayne Robinson
Fibreboard Packaging – Huhtamaki Ltd (Auckland)
They say as one door closes another opens. Wayne entered the print industry after being offered a die-cutting apprenticeship at Interpac Packaging (now Huhtamaki).
"It sounded like a terrific opportunity for me to learn about a new industry and to achieve a trade certificate.
"I have never felt like an academic person so completing my apprenticeship has been my greatest achievement. This has made me even prouder now I am helping to train and mentor two of my work colleagues through the same apprenticeship."
Wayne is keen to take on a management role in the next five years and is planning his next steps to achieve this. Outside of work Wayne enjoys spending time with his young family and is a keen distance runner.
Production manager Clinton Sampson says Wayne consistently pushed along his own training.
"He has a good focus on quality and takes full responsibility for the quality he produces. He will regularly seek feedback if he has concerns about any of the work he is producing."
Rachael Smith
Digital Processes for Print - printing.com @ TGM Creative (New Plymouth)
Rachael became hooked on graphic design at age 14 after spending an afternoon with a family friend - a graphic designer.
After leaving school she completed a Diploma in Graphic Design and took on a role at a large format company and then at printing.com in Wellington. After moving back to Taranaki, Rachael undertook her apprenticeship in Digital Processes for Print.
"I love the diversity and problem solving side of my job. I am a graphic designer and print specialist, so I get to be creative and technical.
"Anything that is printed at my work comes to me first. It is my role to be a final quality control check point. I get to work on all types of jobs and get to see nearly every step of each order. Each day is different which keeps me interested and excited to go to work."
Rachael is keen to keep learning in order to achieve her long-term goal of becoming a production manager or art director.
Human resources manager Christine Frey says Rachael is one of those staff members one never needs to worry about.
"She's reliable and she works for the benefit of the company."
Drew Solakof
Screen Printing - Electronic Imaging 2011 (Christchurch)
Currently overseas with his role at Electronic Imaging 2011 held open, Drew completed his Screen Printing apprenticeship in August 2014.
Throughout his training Drew was keen to learn and showed his passion for screen printing.
His employer says Drew has had a great attitude towards his training from the beginning.
"Drew has always been keen to gain as much knowledge as possible. He is being trained to become part of our production team, spending two hours a day in production planning - a role he is likely to move into in the near future.
"He is also team leader for lean manufacturing initiatives in the workplace."
Competenz account manager Steven Jack says Drew is a very approachable young man.
"He has a great attitude – his employer raves about him."