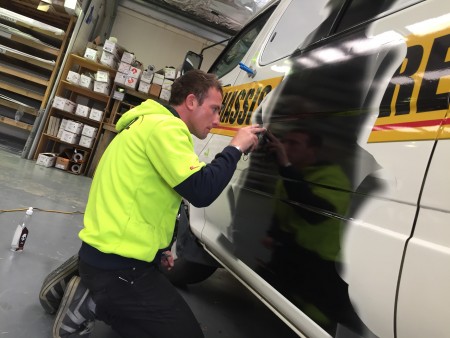 15 February 2018
Toby Marsh is a signmaking apprentice at SignBiz in Christchurch and through his work, he's combining his two favourite things: signage and motorsport.
Toby, 22, joined SignBiz in 2015 and started his four-year apprenticeship in 2016.
"They were impressed and could see how keen and motivated I was – and signed me up."
Toby says he enjoyed graphic design at school but knew he didn't want to be "stuck in an office in front of a computer screen all day", preferring to find a job with a good balance of creativity and hands-on production. Signmaking was the perfect career and he hasn't looked back.
"I love being able to take an idea from a customer about their branding and translating that into a concept and then producing signage that will work for them. It could be signage for a building or a vehicle – in fact anywhere.
"In the signmaking process I also have to produce a visual representation of what the finished product will look like for the customer. And when the customer stands back and is proud of their branding being seen in public, that's a great feeling."
SignBiz has a 20-strong team of graphic designers, sales people, production staff and installers. "Being the only apprentice means I work across all departments and that exposes me to the whole industry," says Toby.
When he's not printing or designing, Toby can be found racing his RX7 around the track for his own team, Toby Marsh Motorsport.
"A lot of the racing industry is based on presentation, especially when it comes to approaching potential sponsors. So signage is really important – being able to sell myself and the car to sponsors and investors, and in return giving them advertising exposure. My goal is to try and move up the rankings in the motorsport world and you need financial assistance to do that."
The combination of his trade and motorsport has also seen Toby create signage for Kiwi racing car driving legend Greg Murphy.
"SignBiz has done Greg's signage for years, but with his recent change to rallying, he came to us with a proposal to deck out his rally team. He had a draft design and I was given the job to translate his idea into reality. I also did the branding for the sponsors on the car.
"It's pretty special being able to combine the two things I love – making signs and car racing. I'm now working on a new concept for Greg, which will be very cool."
While he's busy right now learning and working, Toby says he's aiming for a management position in the future. "I'd like to be an account manager actually selling ideas and products to customers and sharing my knowledge with other apprentices.
"There are a lot of creative people out there like me who don't realise you can balance cool design work with hands-on production."
Competenz Training Advisor Steven Jack was impressed with Toby's talent and passion for his apprenticeship from day one.  
"Toby has consistently produced a high standard of work and you can tell how much he loves it. And it's great to see him so well supported through his learning and development by the team at SignBiz."