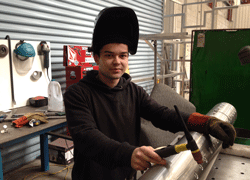 23 September 2015
Twenty-three-year-old Christopher Ross isn't shy of seizing an opportunity when he sees one. The fabrication apprentice is six months away from completing his apprenticeship at Stafford Engineering Ltd in Hamilton, a job he got by taking the initiative and knocking on a few doors.
"I started my apprenticeship in 2012. I rang Kaleb James (Stafford Engineering Ltd General Manager) for a job and ended up laser-cutting before getting my apprenticeship," Christopher says.
"I was put down to be a fabricator and within 18 months I got the apprenticeship. My brother did the same apprenticeship. It looked pretty interesting."
Christopher saw the opportunity to earn while he learned.
"I didn't see the point in studying for a few years and then getting into student debt. I just wanted to get into the workforce and earn some money," he says.
Learning to weld, measure and read technical drawings hasn't been 'too much trouble' for this budding fabricator. He initially found the assessments slightly daunting, but had the help from his team when things got difficult.
"The team is awesome. The workplace has been really good, really helpful. I've got some of the guys to help me with some of the workplace assessments," he says.
Stafford Engineering Ltd General Manager Kaleb James says Christopher has come a long way since he started at Stafford.
"Chris spent 18 months with us before being offered an apprenticeship," Kaleb says.
"We've seen him grow and develop over time and come out of his shell. His quality of work and finish is very good. He's still got a way to go in terms of end to end job planning, but he will be a great tradesman in due time. The first leg of his journey is nearing completion but there's a lifelong road of learning ahead of him."
Christopher is looking to stay on at Stafford Engineering after finishing his apprenticeship and possibly going to Australia later down the track.
He recommends an apprenticeship as a good way to build a lifelong career.
"A lot of managers in engineering firms start as apprentices. You can work your way up. Once you get qualified, you can earn quite good money," Christopher says.