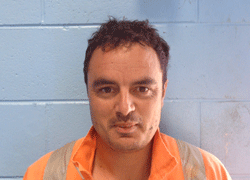 30 November 2015
For 32-year-old James Hohaia, taking on an apprenticeship later in his career was challenge he couldn't refuse. Currently completing a mechanical engineering apprenticeship at Wallace Corporation in Waitoa, James' 'never-say-die' attitude has led him to become one of four finalists nominated for the Competenz Stuart Tolhurst Apprentice Trophy at this year's 2015 SKF National Maintenance Engineering Conference (NMEC) in Hamilton.
The award is recognition of all the long hours James has put into his apprenticeship.
"It's pretty cool being nominated. I didn't believe I got nominated when the boss first told me," James says.
Over 16 years ago, James started at Wallace Corporation as a plant operator. He was given the opportunity to do the mechanical engineering apprenticeship nearly two years ago.
"I wanted to take on the challenge. My boss approached me to do an apprenticeship, and I thought, why not."
Wallace Corporation Engineering Manager David Wright says James always goes the extra mile to get things done.
"James is happy to work outside of normal hours to get the job done. He's a reliable member of the team and can always be counted on," David says.
"He showed promise and a real interest in engineering which is why I offered him the apprenticeship without hesitation."
James is hoping to carry on working in mechanical engineering after finishing his apprenticeship.
His advice to people wanting to start a new career in engineering?
"Get into it. If you want a challenge, than definitely go for it."
More information about the 2015 SKF National Maintenance Engineering Conference (NMEC)
The 2015 SKF National Maintenance Engineering Conference was held at the Claudelands Events Centre, Hamilton on 18 and 19 November.
Hosted by the Maintenance Engineering Society of New Zealand (MESNZ) and supported by Competenz (the Industry Training Organisation for the engineering industry), the two-day conference brought together over 60 industry suppliers' exhibitions, informative sessions, and a panel of guest speakers.
For more information, please visit the MESNZ website.