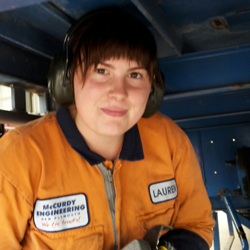 26 November 2015
Being the only female in the workshop doesn't faze 23-year-old engineering apprentice Lauren Thompson. Currently in her second year of completing a general engineering apprenticeship at heavy transport engineering company McCurdy Engineering in New Plymouth, Lauren is well on her way to creating a lifelong career in this currently male-dominated industry.
"I've always been a tomboy and my dad's an engineer so I'm following in his footsteps. Since I was four-years-old I've been in a workshop, so I've spent all my life being around engineering," she says.
Lauren knocked on many doors before McCurdy offered her an apprenticeship.
"I went around my local engineering firms to introduce myself and told them about my pre-trade training. It definitely helped get my foot in the door."
The team at McCurdy have been behind Lauren every step of the way.
"At first it was a bit hard for them to grasp that there's a female in the workshop, but they've taken to me well and they've given me advice when I need it. I've learnt a lot from them," she says.
"My family have also been really supportive. My grandparents loaned me the money to do my pre-trade course at Western Institute of Technology at Taranaki (WITT) which meant I had already completed the first year of an apprenticeship when I started at McCurdy."
Hoping to see more women in trades, Lauren believes that more support is needed to encourage women to take the first step.
"I think there should be an organisation that helps more women get into engineering. I know there are a lot of tomboys out there who are interested in trades, but getting a foot in the door is really tricky," she says.
McCurdy Engineering Warranty and Training manager Andrew Wylie says Lauren is a hard worker who's becoming more and more confident on-the-job.
"She's progressing well and her work continues to improve. The more experience she gains, the more confident she becomes. She fits in well with the team and has certainly changed the dynamics of the workplace for the better," Andrew says.
Lauren plans to keep her options open once she completes her apprenticeship.
"I wouldn't mind doing some offshore engineering or going overseas. I really like the health and safety side of the job as well."
The opportunity to earn while you learn has benefits.
"At university you're not always guaranteed a job at the end of your study. Apprenticeships are the way to go, especially if you get the right employer."